It's 45 years since Viet Nam and Laos established formal diplomatic ties (September 05, 1962), so Sai Gon Giai Phong thought it would be a good idea to interview the Vietnamese ambassador to Laos, Mr. Nguyen Huy Quang, about the Vietnamese communities over there and their contributions to both countries. Here's what he says.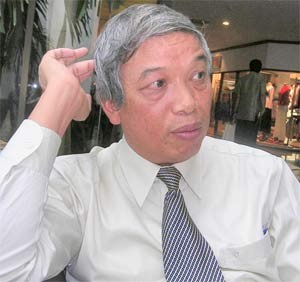 Mr. Nguyen Huy Quang, Vietnamese Ambassador to Laos

Reporter: What are the particular characteristics of the Vietnamese who live in Laos?

Mr. Nguyen Huy Quang:

Most of them are patriots who fought or otherwise aided in the wars against the French colonialists and the American imperialists. They ran away from Viet Nam to escape repression.

They have settled down well and are an integral part of Laotian society, yet they always attach importance to conserving the Vietnamese language. Since the first ones arrived, these people have built their own schools to teach their children about the Vietnamese culture, history and language.

Thanks to the strong bond between the two nations, the Laotian government has allowed Vietnamese schools to use the curricula and textbooks found in the primary and high schools in Viet Nam.

Furthermore, the Vietnamese government gave Laos half a million dollars to build the Nguyen Du School. On the fifth of September, 800 children, half of them Vietnamese, will begin studying at this new school.

In addition, Ho Chi Minh City gave a lot of money to build a sports center and other facilities for the Vientiane – Ho Chi Minh City Friendship School in the Laotian capital.

At present, there are more than 20,000 Vietnamese living in Laos, mostly farmers, merchants and craft makers. About 5,000 have settled down in Vientiane and 6,000 in Savannakhet.

The Vietnamese in Laos are intelligent and hardworking. Despite the fact that Laos is one of the least economically developed places in the world, most of the Vietnamese people here are well off. They also benefit from the Laotian government's special incentives for resident foreigners.

Could you please tell our readers about the contributions of Vietnamese expatriates in Laos to both countries over the course of 45 years of diplomatic ties and 30 years of formal economic and trade links?

Mr. Nguyen Huy Quang: During the war, the Vietnamese in Laos did not hesitate to risk their lives for the cause of independence and freedom in both countries. Now in peacetime, they are ready and willing to contribute their intelligence and wealth to foster a sustainable relationship between the two lands.

For the past half century, Vietnamese immigrants have done much to develop the economy and maintain political stability in Laos. We can say that Laos is their second home and that they are part of the flesh and blood of both countries.

The Vietnamese always think about their homeland. Their love for Viet Nam can be seen in the way they observe formal occasions and the ceremonies and activities they organize to mark special Vietnamese events and traditional holidays. Whenever a natural disaster strikes Viet Nam, the people here are ready to lend a helping hand by taking up a collection and sending the money to the victims back home.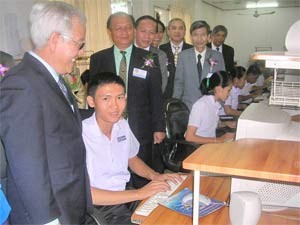 A delegation of Ho Chi Minh CIty visits the computer lab of the Vientiane – Ho Chi Minh City Friendship School
To have such a good life, the Vietnamese must get along well with the locals, isn't that so?

Ambassador Nguyen Huy Quang: Despite the differences, there are similarities between the two cultures, and it's these similarities that help the Vietnamese immigrants adapt well to their new environment.

Laotians are kindhearted, sincere and hospitable people and have always thought well of their Vietnamese neighbors, so it's not surprising that the Vietnamese who moved here found it easy to settle in and become accepted, especially as they live decent lives and respect the local customs, laws and practices.

The aim is to boost two-way trade past the billion-dollar mark. How are Vietnamese entrepreneurs helping to reach this goal?

Mr. Nguyen Huy Quang: The objective of the cooperation between Viet Nam and Laos is to help each other develop. Viet Nam has been investing in Laos since 2004 and is among the three biggest sources of foreign investment here.

There's been investment in important areas like mining, hydroelectricity and rubber cultivation. Each project needs millions of US dollars.

What we need is more investment capital, but most of the Vietnamese companies in Laos are small to medium in size, and they are relatively few in number anyway. So I can say that, as things stand, the role of these firms can only be to liaise with companies in Viet Nam and help them get to learn about the Laotian market. Capital is not their strong point.