Vietnamese and Chilean leaders have hailed the negotiation of a bilateral trade agreement (BTA), saying that the signing of the agreement will usher in a new era in economic and trade ties.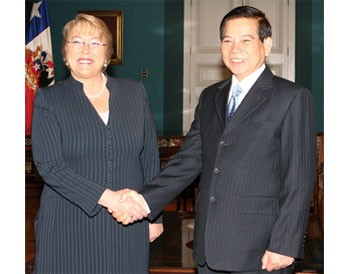 Chilean President Michelle Bachelet Jeria (L)welcomes Vietnamese President Nguyen Minh Triet at Moneda Palace in Santiago, Chile, on Sep. 30, 2009. (Photo: VNA)
Visiting Vietnamese President Nguyen Minh Triet and his Chilean counterpart Michelle Bachelet Jeria shared the view during talks at Moneda Palace in Santiago, Chile on Sept. 30.
They also expected that the BTA would continue to help elevate bilateral cooperation in agro-forestry, the food industry, mining, bio-technology, banking, telecoms, poverty reduction and social welfare.
The two leaders agreed that multifaceted cooperation between the two countries in recent years has been fruitful, especially in terms of the exchange of visits by top leaders. They expressed their pleasure at the implementation of signed agreements while pointing out to outstanding issues that must be addressed to tap the full potential of both countries.
They also agreed upon some measures to boost ties, strengthening political and diplomatic links by continuing the exchange of high-level visits and stepping up political consultancy between the two foreign ministries.
The Vietnamese and Chilean presidents agreed to put a Joint Governmental Committee into regular operation and expand collaboration in education and culture. The two countries will coordinate in organising exchanges in art and culture to celebrate their major anniversaries in 2010--the 200th Independence Day of Chile, the 65th National Day of Vietnam and the 1,000 th anniversary of Thang Long-Hanoi.
On regional and international issues of mutual concern, the two leaders affirmed they will continue coordination and mutual assistance at international and multilateral forums, as well as boost relations with countries in Southeast Asia and Latin America.
President Triet congratulated Chile on its socio-economic achievements over the past years, which brought Chile status as a leading nation in the Latin American region and raised its role and prestige at the international arena.
President Michelle Bachelet Jeria said that Chile values the importance of Vietnam's position in the region and the world and stated its determination to further enhance friendship and cooperation with Vietnam.
President Triet invited his Chilean counterpart to visit Vietnam and the invitation was warmly accepted.
Meeting with media after the talks, the Chilean President said that Vietnam was a dynamic country in economic development and expressed the wish that Vietnam would actively consider joining the Trans-Pacific Free Trade Agreement.
President Triet stressed that Vietnam wants to comprehensively cooperate with Chile to develop and learn experiences from the country.
Also on Sept. 30, a ceremony to present the title of Santiago de Chile's Honorary Citizen to President Triet was held at the Chilean capital's Town Hall.
President Triet also had an exchange of views with Chief Judge of the Supreme Court of Chile Urbano Marin Vallejos.
In the evening on the same day, President Michelle Bachelet Jeria held a banquet for President Triet and the Vietnamese delegation
State President Nguyen Minh Triet also met Chile's acting President of Senate Carlos Bianchi and President of Chamber of Deputies of Chile Rodrigo Alvarez Zenteno in Santiago de Chile on Oct. 1 ( Chile time).
During the meetings, President Triet said that Vietnam highly valued Chile's role and position in the region and the world and attached importance to development of friendship and comprehensive cooperation with Latin American countries, including Chile.
The President stressed his current visit to Chile manifested Vietnam's determination to deepen the two sides' friendship and comprehensive cooperation.
He shared the view with his hosts that legislative bodies of Vietnam and Chile play an important role and position in bilateral cooperation, particularly by building a legal corridor for stable and sustainable ties.
The Vietnamese President said he wished the two countries' legislative bodies promote their sharing of experience in legal development and legal enforcement, and coordination at inter-parliamentary forums.
He said he believed that Vietnam and Chile would join efforts to bring the two sides' friendship and cooperation to a new height, for benefits of both peoples and for peace, stability, cooperation and development in the two regions and the world at large.
The Chilean parliament leaders affirmed that fruitful results from President Triet's visit would contribute to increasing understanding and mutual assistance between the two countries' people, ushering Chile-Vietnam cooperation into a new stage of development with brighter future.
Earlier the same day, President Triet attended the Vietnam-Chile business forum which drew Chilean Deputy Permanent Foreign Minister Alberto Van Klaveren and representatives from Vietnamese and Chilean firms.
President Triet affirmed Vietnam's wish to develop the friendship between the two countries and peoples as well as accelerate multi-faceted cooperation, focusing on economy, trade and investment.
Chile was a leading supporter of Vietnam's bid to join the World Trade Organisation and among first nations to recognise Vietnam's market economy, he said.
The two countries are accelerating negotiations in order to sign their free trade agreement (FTA) nearly next year, making a breakthrough for bilateral economic-trade cooperation.
At the forum, President Triet witnessed the signing of a cooperation document between the Vietnam Chamber of Commerce and Industry (VCCI) and the Chilean Industry Association (SOFOFA).
Also the same day, President Triet called on Angela Jeria, mother of Chilean President Michelle Bachelet.
Later the day, the President and his entourages left Santiago de Chile, ending his state visit to Chile.