Vietnamese audiences are beginning to appreciate and enjoy cartoon films made by foreign motion picture companies, which in turn are raking in huge profits in cinemas.
Foreign cartoon films popular
Young audience love dressing up as cartoon characters when coming to the cinema (Photo: SGGP)
When Fafilm Vietnam was the sole agent of foreign films in Vietnam, cartoons were a small part of their business and did not gain much popularity. Ever since MegaStar took the agency for foreign films in Vietnam, it has become the largest agent in the country and cartoons have since become very popular with the masses.
In 2006, Megastar released only three films: Shark Tale, Madagascar and Cars. In 2007, they released another 3 films: Over the Hedge, Shrek 3 and Ratatouille. The numbers have doubled in 2008 and they showed 6 films in 2009 and 7 films in 2010. Since the beginning of this year, they have released 5 films and 2 more are still to be released.
Another foreign film agent, Galaxy, is also providing Vietnamese audience with a considerable number of cartoons.

Over the years, the top-five blockbuster cartoons in Vietnam have been Tangles, Rio, How to Train your Dragon, Mega mind and Despicable Me.  Kung fu Panda 2 has been particularly a big draw at cinemas in Hanoi and Ho Chi Minh City, with many cinemas displaying a "house full" board much before the start of a show. No wonder that Megastar has invested nearly VND1, 000,000,000 (about US$50,000) in inviting actors Minh Tiep, Minh Hang and Dai Nghia to dub the film 'Rio' into Vietnamese.
Vietnamese films still lacking
In Vietnam, cartoon companies are doing good business with some making only cartoon films such as the Vietnam Cartoon Company, while some are part of a multi-motion picture firm such as Giai Phong Film Company, Vietnam Cinema Association Film Company and Vietnam Telefilm Producer Company.
In the 16th Vietnam Film Festival in 2006, 16 cartoon films were nominated. 6 cartoon films were also nominated for the Golden Kite Prize in 2009 besides 9 others in 2010, 5 of which were produced with 3D technology.

However, except in competitions, it seems that Vietnamese cartoon films such as the winner of the 2011 Golden Kite Cartoon Prize "Child of Dragon" by director Minh Tri, is still unable to satisfy audiences completely.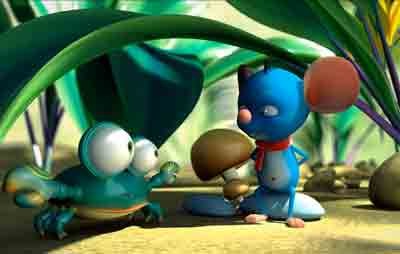 A scene from the video clip 'Under the Trees' by Hong Bang University graduates (Photo: SGGP)
Vietnamese Cartoons for profits
During a chat in a Coffee Shop, artist Phan Vu Linh from HCM University of Fine Arts revealed that he was planning to cooperate with director Huynh Vinh Son, maker of the successful 3D cartoon 'the Hare and the Tortoise' nominated in the 16th Vietnam Film Festival, in making new cartoon films.
Of late, a 3D cartoon video clip 'Under the Trees' by Hong Bang University graduates, uploaded on website www.youtube.com, has caused quite a stir amongst audiences. The 7 minute clip about the journey of a shy mouse to rescue his friend the frog from a snake was made into DVD by BHD Film Company to offer Star Cinema viewers as well as replace foreign film trailers before each film show.
It is high time that Vietnamese cartoon producers grasped the opportunity to create high profits in their own market from educational as well as entertaining cartoons.


Vietnamese cartoons still have difficulty in output for television and cinema. At the moment, the company has built 2 rooms: a large room (150 seats) and a small room (80 seats) to serve young audiences. The company also has plans to make 2D and 3D films as well as 3D DVDs for Phuong Nam Films. However, our skilled artists need a more macroscopic policy to make better and more attractive cartoons.
Mr. Dang Vu Thao (Director, Vietnam Cartoon Company)

I had a chance to watch wonderful Vietnamese short films but not cartoons. We are very eager for a cartoon project in the near future. Megastar is always ready to support Vietnamese films, be it cartoon or not.
Mr. Brian Hall
(Megastar's Chairman, Board of Directors)