At the 11th National Women's Congress in Hanoi on March 13, Ms. Nguyen Thi Thanh Hoa was re-elected Chairwoman of Vietnam Women's Union (VWU).
Over 1,000 delegates from across the country also elected a Central Executive Committee of the VWU for the period 2012-2017, which includes 163 members who have made contributions to the various branches during the last term.
The congress also elected the Union Board Committee of 33 members for the period 2012-2017, one Chairwoman and seven Vice Chairwomen.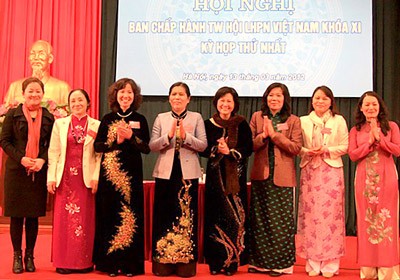 Nguyen Thi Thanh Hoa, new Chairwoman of VWU (4th, L) and seven Vice Chairwomen. (Photo: SGGP)
Ms Nguyen Thi Thanh Hoa, Chairwoman of Vietnam Women's Union, told the media that the congress will review women's movements and activities during its last term period of 2007-2012, as well as its achievements and directions for the next five-year period.
During the past five years, the Women's Union has constantly worked towards renewing its methods and activities to take care of and defend the legitimate rights of women nationwide, said Ms Hoa.
Sharing Ms Hoa's views, Prof. Pham Thi Tran Chau, the oldest representative attending the Congress, said that the role of women should be further enhanced in every aspect of society.
The numbers of women intellectuals have also increased steadily, with an increasing proportion of young women becoming involved in scientific and technological work, she said.
Buddhist nun Thich Dam Hue, Chairwoman of the Buddhist Club in the northern province of Ha Nam, commented that women had fewer opportunities to improve themselves if they were living in poverty and expressed hope that VWU would pay more attention to Buddhist women.
According to Mang Thi Dien, from the Raklay ethnic minority group from the central province of Quang Ngai, there is a large gap between women in rural and urban areas. Women in remote areas have less opportunity to access information, education and training and social security.
Poverty is hindering the development of women, especially in remote areas, islands and mountainous areas, she said.
Speaking at the meeting, which reviewed the work of the women's movement over the past five years; Nguyen Thi Kim Thuy, Vice President of the Vietnam Women's Union said that aside from assuming greater responsibility for building a happy home life, Vietnamese women had made progress in the political arena as well.
She said women had been more active in championing citizen's rights and had been more involved in politics at all levels. Women now make up 24.4 per cent of the National Assembly, while female staff in State agencies at district and central levels account for 31 per cent of all employees, she said.
Meanwhile, women comprised 25 per cent of all entrepreneurs in the country, and had created tens of thousands of jobs.
Thuy said about 39 per cent of women went on to higher education and attained master's degrees and 37 per cent got their PhD's or became professors.
According to Thuy, women still need support when it came to countering traditional prejudices in society.
"The number of women who are holding decision-making and policy-making positions remains low. For example, female leaders on people's committees and people's councils only account to 4 per cent," she said.
.