The Vietnamese Government and people consider Japan a leading partner and will do their utmost to further develop bilateral ties for the interests and common development of the two nations.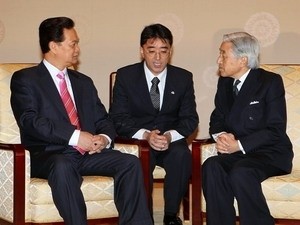 Prime Minister Nguyen Tan Dung (L) meets with Japanese Emperor Akihito (R)(Source:VNA)
Prime Minister Nguyen Tan Dung made this affirmation while meeting with Japanese Emperor Akihito and Empress Michiko in Tokyo on Nov. 2, the last day of his four-day visit to Japan .
PM Dung stressed that Vietnam highly values the warm sentiments of the Japanese Emperor and Royal Family towards Vietnam , as well as the friendship and cooperation between the two countries.
He informed the hosts about the results of his visit, saying that the two sides reached a high level of consensus on both orientation and specific measures to further consolidate the strategic partnership.
They agreed to select 2013, which marks the 40 th anniversary of bilateral ties, as Vietnam-Japan Friendship Year, he said.
Emperor Akihito spoke highly of PM Dung's visit, saying it will create new opportunities and prospects for fostering the Vietnam-Japan comprehensive cooperation.
He called on the Japanese and Vietnamese Governments to speed up mutually beneficiary cooperative programmes in various fields.
The Emperor said he hopes that the two sides will also strengthen close coordination and mutual support at regional and international forums.
Earlier, at a reception for President of Japan's Liberal Democratic Party (LDP) Sadakazu Tanigaki, PM Dung highly valued Japan 's continued implementation of ODA commitments to Vietnam , despite serious losses caused by the March earthquake and tsunami.
He asked Japan to continue cooperation with Vietnam in implementing development projects in IT software and hardware, infrastructure, support industry and in training human resources.
Sadakazu Tanigaki affirmed the LDP's support for boosting ties between the two countries, as well as assisting Vietnam in implementing infrastructure and support industry development projects and human resources development.
On the same day, the Vietnamese Government leader received Japanese Minister of Land, Infrastructure, Transport and Tourism Takeshi Maeda.
He expressed the wish for Japanese investors to work together with the Vietnamese side to reach specific agreements in cooperation and investment in developing transport infrastructure in Vietnam under the model of public-private partnership (PPP).
Minister Takeshi Maeda said that Japanese businesses are interested in investment activities in Vietnam , especially in building transport infrastructure.
He expressed his wish that the Vietnamese Government will create favourable conditions for Japanese investors to carry out projects successfully and effectively in the country.
On Nov. 2, Prime Minister Nguyen Tan Dung witnessed the signing of a 1.2 billion USD loan agreement between Japan International Cooperation Agency and Vietnam 's Finance Ministry.
The funds will be used for a number of projects, including a 130 million USD climate change adaptation programme, a 272 million USD Lach Huyen port project and the 522 million USD Nghi Son thermal power project.
Other projects include the 181 million USD Ben Luc-Long Thanh section of the North-South Expressway and a 93 million USD project to use satellites in disaster management and climate change response.