Large quantity and low quality of commercials have pushed the government to tighten control on the media, but there's yet to have a measure agreed upon.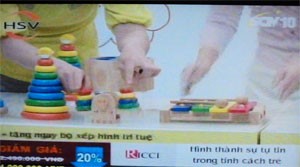 A commercial on smart toys for children. Vietnamese viewers have been suffocate by too many commercials, many of which giving false information (Photo: Minh Tri)
The Authority of Broadcasting and Electronic Information at the Ministry of Information and Communication has recently sent a statement to radio and television stations ordering "urgent checking of commercials on the stations involved Happy Shopping products."
Any concerned commercials were asked to be punished under laws, the statement said.
The move came after the Ho Chi Minh City administration slapped a fine of about US$22,000 on local home shopping company Happy Shopping for selling smuggled and fake goods through television infomercials.
Many reports from the broadcasting stations have later revealed that the health authorities have certified many of the medical and cosmetic products of Happy Shopping, even the commercial content, thereby made them legal on the screen.
Luu Vu Hai, head of the authority, said that the problem is still under investigation, promising that the public will be informed of any official conclusion.
Hai promised that government agencies will clarify people responsible and impose strict penalties to clear all confusion from the public over the products.
Goods that Happy Shopping sold were advertised as high quality products, while they were, in fact, fake.
The firm has made use of television, the most common communications channel, to advertise its products, Nguyen Van Nam, former director of the Institute of Trade Research, earlier told Thanh Nien News.
Meanwhile, consumers with rising incomes, who want to use more luxurious and fashionable products, believe in the advertisements that are run on state-owned TV, Nam said.
Ngo Huy Toan, a senior inspector from the ministry, said that false commercials are mostly seen during the TV's gold time between 6 p.m. and 9 p.m., especially those on medical centers that can cure all different kinds of diseases, functional foods disguised as drugs, and commercials that are not suitable to Vietnam's traditions and culture.
A lot of the products have their functions and effects "overstated" and thus "affect consumers' health and belief," Toan said.
Each of such products would pop-up repeatedly during a program and throughout a month, making the viewers "suffocated", he said.
The official said that advertisement regulations only allow a commercial to appear continuously in eight days, and reappear after some time.
"The current situation of commercials not only shows disrespect to media products but also to the viewers," Toan said.
"It's time [officials] should sit back and look into the issue seriously to fix it and bring it back on the right track," he said.
As one of the fixing efforts, a draft of Advertisement Law has been proposed by the Ministry of Culture, Sports and Tourism.
But many opinions have said that the draft was not impractical and specific enough.
The drafting ministry only controls around 5 percent of advertisements in the country, which are on billboards and banners, while it is the Ministry of Information and Communication that controls the other 95 percent, which are on newspapers, magazines, broadcasting stations as well as post and communications measures.
Under the draft, a commercial is allowed to take no more than 7 percent of a day's broadcast time on a television, which is more than one hour and a half on each of many channels.
Many people say that the time allowed is too big.
There are opinions that the law should set specific time limits for different categories of programs, in term of time.