The Vietnamese Government always encourages scientists to study and seek solutions to traffic safety management problems and contribute more to fine-tuning transport regulations and policies, Deputy Prime Minister Nguyen Xuan Phuc has said.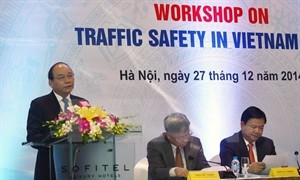 Deputy Pm Nguyen Xuan Phuc speaks at the event (Photo: VNA)
Addressing the 2014 Vietnam traffic safety conference in Hanoi on December 27, Deputy PM Phuc who is also head of the National Traffic Safety Committee asked scientists to focus on discussing measures to intensify the application of science and technology in building a smart traffic system and ensuring traffic safety and order in Vietnam.
They were also requested to coordinate closely with the National Traffic Safety Committee and contribute constructive ideas to bettering this work, while ministries, sectors and localities were asked to listen to the scientists' opinions in order to choose appropriate solutions.
According to statistics from the World Health Organisation, traffic accidents kill 1.3 million people and injure about 50 million others, and cause economic losses worth around 3 percent of the world's GDP each year.
In Vietnam, thanks to due attention of the Party, National Assembly and Government together with joint efforts from ministries, sectors, localities and people, the transport sector has gained remarkable achievements.
Decreases were recorded in the number of accidents, deaths and injuries. The number of death toll reduced for the three consecutive years to below 9,000 people in 2014.
However, the Deputy PM noted that the country is still facing a lot of challenges, including the worrying number of serious traffic accidents, ineffective control of vehicles' loading capacity and low quality of transport infrastructure.
He called for further efforts from all ministries, sectors and localities to curb traffic accidents.