The Vietnamese Government has ambitious plans to train at least 30.5 million workers under its human resource development plan during the years 2011-2020.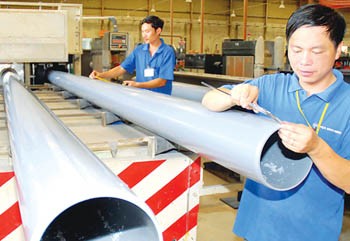 Vietnam targeting training of 30.5 million workers in the next ten years (Photo: SGGP)
This plan is expected to cost over VND2 trillion (US$95 million), accounting to 12 percent of the social investment capital.
The plan aims to increase the number of trained workers from 40 percent in 2010 to 70 percent by 2020.
Amongst these, the numbers will increase from 15.5 percent to 50 percent in the agriculture sector, 78 percent to 92 percent in the industrial sector, 41 to 56 percent in the construction sector and 67 percent to 88 percent in the services sector.
The Government is also planning to raise the number of universities and colleges to 537 by 2020. Another 158 schools will also be added by 2015.