The struggle for justice will continue, though the opportunity for Vietnamese AO victims in US court had passed when the US Supreme Court decided not to consider Vietnamese Agent Orange victims' petition against companies that produced defoliants used in the Vietnam War, said a high-ranking official of Vietnam Association of Victims of Agent Orange/Dioxin (VAVA).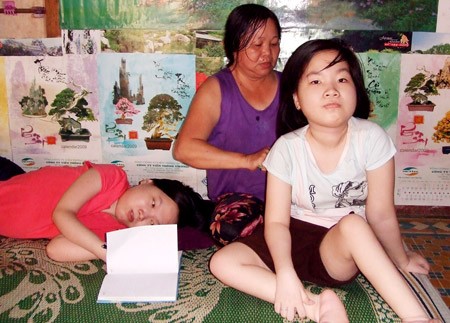 Nguyen Thi Tham, a resident in Nha Trang City, Khanh Hoa Province, with her two dioxin-affected children (Photo: SGGP)
VAVA is preparing necessary evidence for a new lawsuit against US chemical companies in 2011 with the help of American lawyers, said Tran Xuan Thu, VAVA's General Secretary.
Mr. Thu added that previous hearing sessions held in New York and neighboring states, concluded that they would refuse to pay compensation to Vietnam AO victims. Now the VAVA must prepare to sue other states.
Activities to help AO victims have been carried out in localities nationwide. The request was made at talks on "Agent Orange – message from the heart," held in Ho Chi Minh City on August 9, part of Agent Orange Day activities (August 10). Organizations and benefactors agreed to give victims VND7 billion.
Northern provinces of Thanh Hoa and Phu Tho donated cash, presented gifts, wheelchairs and computers, worth over VND2.2 billion, to the victims; meanwhile, the northern province of Nam Dinh provided free health checks and treatment for more than 600 victims in its two districts of Vu Ban and Truc Ninh.
The Vietnam News Agency's Relief Fund for AO Victims visited and presented gifts worth more than VND 500 million to the victims in the Central Highlands province of Kon Tum's district Ngoc Hoi on August 10.