The Ministry of Agriculture and Rural Development (MARD) affirmed that Vietnam has tightened control on agro-products and imported foodstuffs since July 1 when they enforced a new Law on Food Safety and Hygiene.
The ministry emphasized that importers of fruits, vegetables and animal feed must state clearly the origin of these commodities or else relevant agencies will not allow their imports into the country.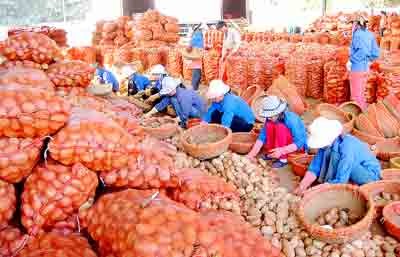 Since July 1 potato imports into Vietnam under check to protect consumers ( Photo: SGGP)
The Department of National Agro-Forestry-Fisheries Quality Assurance under MARD said the agricultural products, foodstuffs and animal feed were entering the country through harbors in the central province of Da Nang, the northern province of Hai Phong and Ho Chi Minh City. In addition, they were transported through border crossing in the northern provinces of Lao Cai, Mong Cai and Lang Son.
Farmers in some countries used pesticides and chemicals to "polish" agricultural products to make them more appealing and the chemical contents exceeded permitted limits. The ministry hence enforced a law to test imported foodstuffs to protect Vietnamese consumers.
Nguyen Xuan Hong, chief of Department of Plant Protection said inspectors will not just check the origin of fruits, vegetables and foodstuffs but also their chemical contents.
The problem Vietnam is currently facing is the country's lack of lab facilities and personnel to conduct tests and check harbors and borders crossings, according to Nguyen Nhu Tiep, head of the Department of National Agro-Forestry-Fisheries Quality Assurance. Most samples have to be sent back to centers in Hanoi and Ho Chi Minh City which procedure takes at least four days.
Hong said inspectors in 60 quality checking stations at border crossings, harbors and airports in the country check foodstuffs based on a hunch. Tests are carried out only if inspectors suspect the foodstuffs are adulterated. There are only 17 labs for testing quality of fruits and vegetables in the country hence MARD is asking for more on a priority basis.
The shortage of labs and personnel helps clear goods within 24 hours, however relevant agencies will now tighten vigilance on businesses that have violated the law previously and increase the checking time. The serious violators will be forced to return the imports back to the country of origin or face confistication, said Hong.