The friendly and comprehensive cooperation between Vietnam and Thailand had been ceaselessly strengthened and developed in many fields, from central to local levels.

Vietnamese Ambassador to Thailand Ngo Duc Thang made the statement on the occasion of the 35 th anniversary of the establishment of Vietnam – Thailand diplomatic ties (Aug. 6, 1976 – Aug. 6, 2011).

The two sides have also promoted close cooperation in the region and the world, especially since Vietnam joined the Association of Southeast Asian Nations on July 28, 1995, Thang said.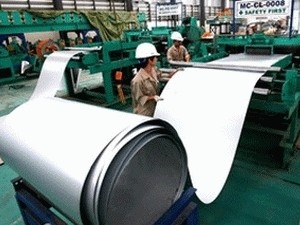 A Thai business in Hai Duong (Source: VNA)
He added that the two countries established a comprehensive cooperation framework in the fields of politics, economics, trade, investment, culture and society, education, training, sports, tourism, defence and security, formal diplomacy and people-to-people diplomacy, as stated in the Joint Declaration on Vietnam – Thailand Cooperation Framework in February, 2004.

A series of important cooperative agreements were signed, creating conditions for the two countries to continue developing, especially the Agreement on August 9, 1997, which was considered a model in dealing with disputes in the region and the world, he said.

Last year, total trade between Vietnam and Thailand reached over 7.5 billion USD, a year-on-year rise of 21 percent. Thai businesses were currently engaged in over 230 projects in Vietnam . With about 6 billion USD invested in Vietnam since 1988, Thailand has been among ten countries and territories that posted the largest investment in the country.

Ambassador Thang said the Vietnam – Thailand friendship and comprehensive cooperation, fostered by the two countries' leaders and peoples, would develop more and more finely in line with development trends of the region and the world.

All cooperative fields will be strengthened for the happiness and prosperity of the two nations as well as for common prosperity of ASEAN, making further contributions to the establishment of the ASEAN Community, especially the ASEAN Economic Community by 2015, he affirmed.

The diplomat said that, firstly, it was necessary to quickly speed up the signing of a bilateral labour cooperation agreement, which will bring multifaceted benefits to the two governments and peoples as well as promote bilateral and multilateral cooperation activities at the East – West Economic Corridor, the trans-Asia road project, the Greater Mekong Sub-region and the Ayeyarwady – Chao Phraya – Mekong Economic Cooperation Strategy.

He added that the two countries should further step up joint projects among localities, creating conditions for other cooperative fields such as culture, education and science-technology, helping to strengthen mutual understanding and trust between the two peoples.

The recent visits of the two countries' high-ranking leaders have marked important milestones, further deepening friendship and multifaceted cooperation between the two countries.

Bilateral cooperation in security and defence has been ceaselessly promoted on the basis of principles of respecting the independence, sovereignty and territorial integrity of each country, dealing with disputes by peaceful means, not threatening with force or to use force, not intervening in each other's internal affairs, coordinating in joint patrols on sea and regular visits of delegations of military and security officials of the two countries, he said