Deputy Minister Vinh affirmed that Vietnam always attaches importance to its defence cooperation with Thailand as a development partner in the Association of Southeast Asian Nations (ASEAN).

Vinh congratulated the Thai defence ministry for successfully organizing defence-related meetings during 2019, the year Thailand serves as the Chair of ASEAN, and asked the Thai side to help the Vietnamese defence ministry with hosting defence-related meetings in 2020, when Vietnam takes up the chair of the regional bloc.

Natt Intracharoen pledged support for the Vietnamese defence ministry, and affirmed that Thailand always wants to strengthen its defence partnership with Vietnam, contributing to promoting the bilateral cooperation between the two countries, and to ensuring security, peace and development of both countries as well as the region.

The two sides discussed in depth regional and international security issues which affect the security of each country and cooperation in the AESEAN Community as well as in the region and the world. Some of them involved the competition among powerful countries, sea security, non-traditional challenges such as terrorism and trans-national crime.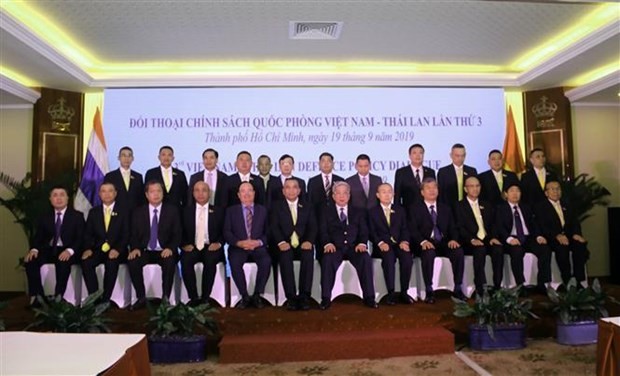 Delegates pose for a group photo (Photo: VNA)

They shared the view that the partnership between the two defence ministries continued to develop and produce practical results over the past time, and concurred that the two sides will focus their cooperation on the exchange of delegations and young officers, United Nations peacekeeping activities, humanitarian mine action, anti-terrorism fight, and joint work among military forces in the time ahead.
The two sides also agreed to reinforce the collaboration between their marine forces, intensify the fight against trans-national crime and support each other's initiatives.
The Vietnam-Thailand defence policy dialogue is an annual mechanism for the two countries to discuss and reach agreement on strategic issues and set the direction for bilateral defence cooperation, which is one of the important pillars of the two countries' relations.