The Ministry of Agriculture and Rural Development and the Ministry of Labor, Invalids and Social Affairs yesterday jointly hosted a national conference on vocational training for rural labors, discussing solutions to obtain the target of 5.5 million trained workers by 2020.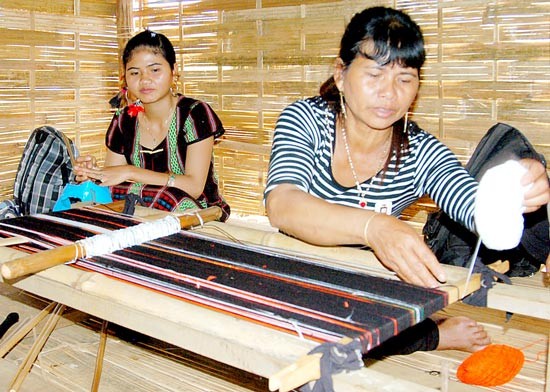 Brocade weaving by Ma ethnic minority in Cat Tien district, Lam Dong province (Photo: SGGP)
The target of training 5.5 million workers is estimated to have the total investment capital of VND12 trillion ($526.44 million).

Stating at the event, Minister of Labor, Invalids and Social Affairs Dao Ngoc Dung said that the rural labor vocational training program had been implemented for six years and provided job training to 3.5 million people. Of these, over 40 percent learnt farming and 60 percent non-farming careers.

The program has contributed in raising the ratio of trained workers from 28 percent in 2009 to 53 percent in 2016, social labor productivity from 37.9 million in 2009 to 84.5 million in 2016.

However Mr. Dung said the program had been formalistic and not attached to reality, citing some communes trained pig castration for 600 people and quoting National Assembly delegates' report of the situation that beneficiaries just registered to get money for other purposes rather than learning a career.

The program in the phase of 2016-2020 requires local authorities to only organize job training for rural labors when they are able to forecast working places and income level of workers after training to remedy the above problems.

This is an obligatory regulation to ensure that at least 80 percent of rural labors can find new jobs after training. Rural labor training must be in association with factors such as market and hi-tech agriculture.