With medical costs accounting for up to 6.2 percent of the nation's gross domestic product, Vietnam is spending as much on healthcare services as developed countries. However, more than 40 percent of costs are going towards paying for medicines.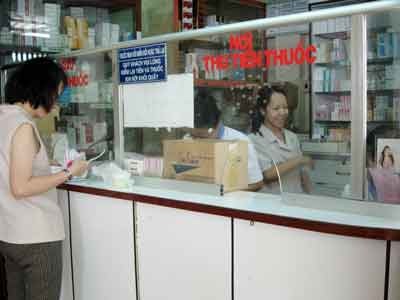 A patient is buying drugs at a hospital pharmacy. Increased drug prices cause public concern, especially those suffer chronic diseases (Photo: Quan Vu) 
The above problem was discussed at a meeting held by the Committee for Social Affairs of the National Assembly on August 6 in Ho Chi Minh City. The cause of the problem has been traced back to weak management of the Drug Administration of Vietnam (DAV).
Only the prices of exclusive drugs have increased, leaving patients with no choice but purchase them at any cost or risk death, according to Deputy Chairperson of the committee, Nguyen Van Tien.
Meanwhile, local pharmaceutical companies can make drugs with the same quality but they are not allowed to, as such medications are exclusively distributed by foreign firms, said Mr. Tien.
Weak management by relevant agencies has pushed up medical costs, forcing patients into poverty and debt, said Nguyen Thi Kim Phuong, World Health Organization representative. Not only are patients paying more, health insurance companies are suffering.
Former Health Ministe Le Van Truyen proposed that the DAV not attempt to control all 22,000 varieties of medicines, but tighten control over 1,000 exclusive, essential drugs. In addition, the DAV should create a detailed list with ceiling prices for drugs, he said.
Meanwhile, the government has tightened control over domestic pharmaceutical companies, but foreign companies are not subject to these controls; the market share of domestic companies has shrunk; for instance; it was 50/50 in 2009, but this year it is 46/54.
Home firms obeyed the regulation that they can only pay 10 percent on commission, but foreign counterparts have spent 50 percent.
The Committee for Social Affairs of the National Assembly said it should have a policy to encourage medical workers and patients to use domestically made medications and restrict the importation of foreign drugs unless their quality surpasses that of domestic drugs.