The 9th Vietnam – Singapore Ministerial Meeting on Connectivity took place in Ho Chi Minh City on April 16 to discuss ways to intensify bilateral economic cooperation.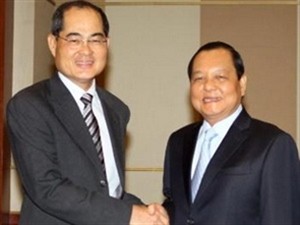 Secretary of the municipal Party Committee Le Thanh Hai receives Singaporean Minister for Trade and Industry Lim Hng Kiang Photo:
Vietnamese Minister of Planning and Investment Bui Quang Vinh and Singaporean Minister for Trade and Industry Lim Hng Kiang, co-chaired the meeting, which is held annually to review the implementation of pledged cooperation contents as well as put forth future action plans and programmes.
During the event, the two sides reviewed the implementation of the Vietnam-Singapore Agreement on Economic Connectivity (VSAEC) since the previous meeting in Singapore on April 2012.
Signed in 2005, the VSAEC is a comprehensive cooperation programme focusing on finance, education and training, transportation, information technology and telecommunications, investment, and trade and services.
Both sides discussed measures to expand scope of cooperation in line with each country's potential and strengths as well as to deepen their economic cooperation.
Through the VSAEC's specific activities, Vietnam affirmed its viewpoints and interest in economic cooperation with Singapore. It asked the Singaporean side to jointly carry out new initiatives within the framework of the agreement and encourage its businesses to invest in Vietnam .
The same day, the Singapore minister had a meeting with Ho Chi Minh City leaders during which he stressed that Singapore wants to expand multi-faceted cooperation with Vietnam in general and HCM City in particular.
Lim highlighted services as the most potential area in bilateral cooperation, saying that Vietnam is shifting from an agriculture-based economy to the one focusing on production and services and Singapore wishes to join this process.
The two sides see great potential for cooperation in finance, banking, logistics, retail sales, education and health, he added.
The minister affirmed that Singapore wants to intensify not only high-ranking connectivity with Vietnam but also connectivity between the two countries' firms.
Secretary of the municipal Party Committee Le Thanh Hai lauded cooperation achievements the two countries have made in the fields of investment, trade, tourism and education, which he said contribute to fostering the relationship between the two countries.
By 2012, Singaporean businesses invested over 5 billion USD in more than 600 projects in HCM City, accounting for one fourth of Singapore's total FDI in Vietnam.