The National Committee for ASEAN 2010 unveiled the symbol and website for Vietnam's chairmanship of the Southeast Asian bloc next year at a ceremony held in Hanoi October 19.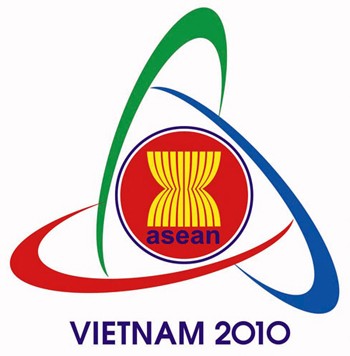 Symbol of Vietnam's chairmanship of ASEAN in 2010
The committee chose Ngo Anh Co's work out of 205 entries from 76 artists. The idea for the logo came from a three-vane pinwheel, a simple game that is popular in Vietnam.
The three rings nestling together show the association between AESAN members in three main pilars -- politics and security, economics, and culture and society.
The red ring stands for political stability and security, the blue ring for a prosperous economy, and the green ring for hope.
They also show ASEAN's willing to broaden cooperation with countries outside the community.
The symbol will be used in all ASEAN conferences and activities that will be held in Vietnam during 2010.
The website is at http://www.asean2010.vn or http://www.asean2010.gov.vn.
Deputy Prime Minister Pham Gia Khiem, who spoke at the ceremony, said Vietnam's chairmanship of ASEAN 2010 is a significant event which reflects Vietnam's role and position as an active and positive member of ASEAN which contributes its best to building a strong and united organization.
Vietnam takes over the chair in the new year and will hold it for a year.