National Assembly Chairman Nguyen Sinh Hung and visiting Chairman of the State Duma of the Federal Assembly of Russia Sergey Evgenievich Naryshkin agreed to deepen the friendship and cooperation between the two legislative bodies in a practical and effective manner during their talks in Hanoi on December 2.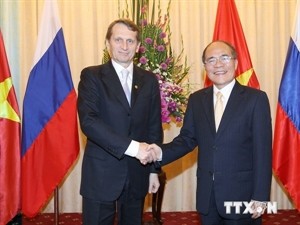 NA Chairman Nguyen Sinh Hung (R) and Russian Chairman Sergey Evgenievich Naryshkin (Photo: VNA)
They consented to cement ties via the exchange of high-ranking delegations, joint supervision over the realisation of cooperation agreements inked by the two Governments, and the update of information about their legislative activities.
The two sides will also further support each other at the Inter-Parliamentary Union (IPU) and the Asia-Pacific Parliamentary Forum (APPF) to share their views on regional and international issues as well as those of mutual concern.
Chairman Nguyen Sinh Hung said that Vietnam always considers Russia a leading partner in its foreign policy, and the upgrading of their relations to a comprehensive strategic partnership demonstrates Vietnam's appreciation of Russia and bilateral relations.
He spoke highly of the two countries' efforts to implement cooperation projects, including those in security-defence and technique-military, stressing that Vietnam is willing to work with Russia to bring their ties to a new height.
For his part, Sergey Evgenievich Naryshkin voiced his delight at the growth of two-way trade which approximated 4 billion US$ in 2013 and topped US$ 2 billion  in the first nine months of 2014. However, he noted that such a level has not matched the two countries' potential.
He expressed his hope that a free trade agreement between Vietnam and the Customs Union of Russia, Belarus and Kazakhstan will further boost bilateral trade and investment relations once it is reached in early 2015.
Russia will prioritise cooperation with Vietnam in the fields of information, nano, laser and biological technologies, and work closer with the latter to carry out joint sci-tech projects, the guest added.
During the talks, Chairman Nguyen Sinh Hung asked Russia to extend its assistance to Vietnam in education-training via the increase of scholarships for Vietnamese students.
He said he hopes that the two sides will continue coordination in holding cultural exchanges, including their annual Culture Day in respective countries, and popularsing their culture and literature so as to help nurture the time-tested relations.
On this occasion, the top Vietnamese legislator invited Sergey Evgenievich Naryshkin and Chairwoman of the Federation Council of Russia Valentina Ivanovna Matviyenko to attend the 132 nd IPU General Assembly in Hanoi in March 2015.