Russian President Vladimir Putin's visit to Vietnam on November 12 is expected to further promote the comprehensive strategic partnership and mutual understanding between the two countries as well as their collaboration at regional and international forums.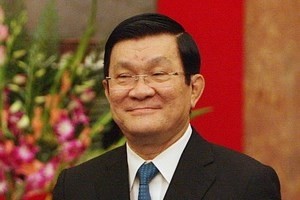 President Truong Tan Sang
President Truong Tan Sang made the remarks in an interview granted to the Russian News Agency Itar Tass on the threshold of President Putin's third visit to Vietnam.
He said that Vietnam and the Russian Federation have enjoyed a long traditional friendship. The Vietnam-Russia Strategic Partnership was established in 2001 and then upgraded into the comprehensive strategic partnership in 2012.
This firm foundation has enabled bilateral relations between the two countries to improve in both scope and scale. Political relations have enjoyed a high level of confidence while bilateral economic cooperation has been very effective. Humanitarian cooperation has also been expanded.
"To create a new breakthrough in the near future, the two countries should focus on core areas, such as trade and energy - including oil, gas and nuclear power," the Vietnamese President stressed, adding that military techniques should also be studied and special attention must be given to strategic projects.
Regarding trade, he said that the two sides should exert further efforts to negotiate and have an early signing of the Free Trade Agreement (FTA) between Vietnam and the Customs Union of Russia, Belarus and Kazakhstan . Although bilateral trade turnover keeps increasing (nearly 2.5 billion USD in 2012 and 1.8 billion USD in the first eight months of this year), it remains at a modest level, accounting for a small portion in the total import-export turnover of each nation.
The FTA will serve as a breakthrough to help increase trade between Vietnam and Russia to 7 billion USD by 2015 and a much higher figure by 2020, he noted.
According to President Sang, in recent years, the two countries have closely and effectively cooperated on many big projects to look for new oil and gas fields in offshore Vietnam and in Russian territory. Besides the joint venture in oil and gas, Vietsovpetro, the two parties have expanded cooperation in a few other joint ventures, such as Vietgazprom, Gazpromviet and Rusvietpetro.
Vietnam will continue to provide favourable conditions to Russian oil and gas companies to expand gas exploration and exploitation on Vietnam 's continental shelf. The Ninh Thuan 1 Nuclear Power Plant project is making good progress and the two sides should ensure it is carried out safely, efficiently and with the highest quality.
In the near future, Vietnam will continue to complete its legal foundation for nuclear development and wants Russia to help Vietnam train human resources with high skill in the field of nuclear power, President Sang affirmed, adding that in the long run, the country wants to be able to master the technology, management and operation of the Ninh Thuan nuclear power plant.
He went on to say that military technical cooperation, a traditional activity between the two nations, is developing effectively. Both sides should continue to promote good relations and think of new forms of cooperation that will contribute to tightening the strategic partnership.
Being comprehensive strategic partnership members, the two nations have closely cooperated in every field with a high level of confidence, especially their fine relationship in national defence and security, he said.
In the recent past, the two sides have effectively implemented all agreements and contracts signed by their leaders. In addition, meetings and contacts at all levels, including meetings between top leaders of the two countries have been organised. These involve a series of annual talks, including strategic dialogues on National Defence and Security and multilateral cooperation at the ADMM+. Such meetings enabled leaders of both countries to timely discuss how to cooperate with each other on national defence, security and on peace and cooperation in the region and the world.
Vietnamese-Russian military technical cooperation is a traditional field. This cooperation has constantly developed and been in line with international laws and practice. In the near future, the countries should raise military cooperation to a higher plane, as in joint-venture production, in research, in setting up service centres and after-sales service as well as in exports to the third countries. In addition, they will continue to co-operate in military training, in scientific research as well as in technology transfer.
In the context of fast changes in the region and the world, the President stated that the two sides need to further tighten their cooperation in the field of national defence and security so that they can contribute to economic development in each country while strongly promoting the development of the Vietnam - Russia comprehensive strategic partnership and actively contributing to peace, stability and sustainable development in Asia-Pacific and the world.
Regarding Russia-ASEAN ties, President Sang confirmed that ASEAN always wants to promote and expand relations with other partners, including Russia , on the basis of friendship and equality in the interest of peace, stability and common prosperity. In reality, the ASEAN-Russian relationship has developed well in security, politics, economics, culture and development cooperation.
Being a traditional friend of Russia , he reiterated that Vietnam highly regards Russia's role and supports its closer ties with the grouping. After becoming an official member of ASEAN in 1995, Vietnam backed Russia to become a full Dialogue Partnership member of ASEAN in July 1996. It was the first country to take the role as a coordinator of the ASEAN-Russia Dialogue in the period 1996-1999.
In 2010, in the capacity as Chairman of ASEAN, Vietnam successfully hosted the second ASEAN-Russia Summit. And at the fifth East Asia Summit, Vietnam actively supported Russia in joining the event. Vietnam is willing to continue to act as a bridge for ASEAN-Russian cooperation in the period 2005-2015.
President Putin's upcoming visit to Vietnam has a special significance towards bilateral relations, President Sang said, adding that it will be the catalyst to promote the implementation of the comprehensive strategic partnership that the two countries have established.
The visit is an occasion for the two State leaders to evaluate opportunities and look for measures to solve any challenges. They will discuss and come to agreement on future orientations to ensure our cooperation stays on the path to high efficiency and quality. They will also review the implementation of agreements reached between Vietnamese and Russian senior officials as well as the progress of major projects between the two countries.
President Sang said that during his meeting with his Russian counterpart, he will talk about orientations and specific measures to lift cooperation between the two nations, including politics, economics, trade, investment, especially the oil and gas projects, the Ninh Thuan 1 nuclear power plant, military technical cooperation, the strategic cooperation in the field of technology and education and many others.
"We will discuss international and regional issues of mutual concern, the existing cooperation between Vietnam and Russia in the framework of UN mechanisms, the cooperation between the two nations in APEC or in organisations that ASEAN plays a key role as in the ARF, East Asia Summit, ASEM and others", he said.
He expressed his belief that the visit will manifest the willingness and resolve of Vietnam and Russia to take the strategic partnership to a higher level.