Vietnam's north-south railway traffic resumed last night, having temporarily shut down, after a train en route to Hanoi collided with a truck in Ha Nam Province near the capital, seriously injuring the train conductor, railway officials said.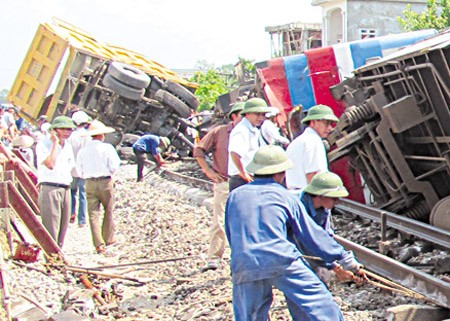 Railway traffic was disrupted on August 6 when three carriages of the Thong Nhat train were derailed after it hit a truck in Ha Nam Province. (Photo:SGGP)
Around 8:00 am, the train crashed into a truck loaded with stones at a crossing in Tien Tan Commune, Duy Tien District.
There were no warning signs or barriers at the crossing.
Three carriages went off the track and overturned, however, nearly 300 passengers on the train were not hurt.
Train conductor, Truong Xuan Thuc, 40, was taken to a hospital for emergency aid for severe injuries he sustained in the crash.
Meanwhile, the truck driver escaped injury, having jumped from the truck before it was struck by the train.
The three carriages were transported to the nearest station for repair work, clearing the track for traffic.
Vietnam Railway Corporation had to send staff to repair 50-meters of damaged railway.
By 4:30 pm the same day, the north–south traffic resumed.
Four trains en route from north to south were delayed and thousands of passengers had to wait at the Hanoi train station due to the accident, said Nguyen Van Binh, deputy director of Hanoi Railway Passenger Transport.
According to police, a lack of warning signs or barriers at the crossing were to blame for the accident; also, the truck driver did not observe his surroundings carefully enough as he tried to cross railway line with a train approaching.