The Ministry of Natural Resources and Environment has ascertained that the process to reduce or eliminate hydrocarbons (CFC) in the country will require funds upto at least US$30 million.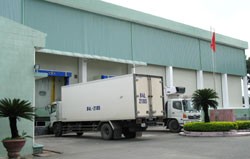 A new refrigerated warehouse of Cuu Long Serapo JSC in the Mekong Delta province of Tra Vinh (Photo: VNA)
Nguyen Khac Hieu, deputy head of the Department of Hydro-Meteorology and Climate Change, said that CFC's are released in the atmosphere from air conditioners, refrigerators and burning of carbon and coal in production units. This has led to shrinking of the ozone layer and contributed towards climate change.
Vietnam needs upto $30 million from now until 2030 to completely phase out hydrocarbons in the country, as part of its commitment under the Montreal Protocol.