Deputy Prime Minister Nguyen Thien Nhan has asked relative ministries and agencies to formulate a pilot plan to allow foreign tourists to claim refund of value added tax (VAT) when they buy goods in Vietnam.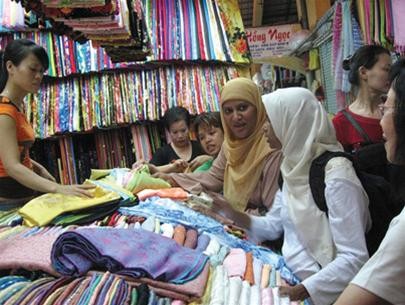 Foreign tourists shop at Ben Thanh Market in Ho Chi Minh City.
VAT refunds aim to lure more foreign tourists to Vietnam and are part of a program to boost tourism.

The plan will be firstly piloted at international airports and in big cities.

The Government will also exempt visa fees for international tourists to Vietnam to join big tourism promotion events.

The deputy PM has also urged the Ministry of Culture, Sports and Tourism to set up a long-term project to boost tourism, especially a strategy to develop tourism through 2020, with a vision to 2030.

After a proposal from the tourism sector in April, the Government agreed to grant free visas to foreign visitors to Vietnam in August and September as part of a national shopping promotion program.

The Government also allowed them to claim refund of VAT when buying goods during the two months under the "Impressive Vietnam Grand Sale 2010" program.

It was the second time the tourism sector asked the government to exempt international tourists to the country from visa fees.
Last year, after a proposal from the Ministry of Culture, Sports and Tourism, the government agreed to exempt visa fees for foreign visitors when they booked packaged tours under a promotion campaign dubbed "Impressive Vietnam". The campaign ended in late last year.
According to Vu The Binh, Director of the Department of Travel under the Vietnam National Administration of Tourism (VNAT), the exemption is a chance to boost the country's tourism and encourage travel firms to compete fairly by improving their tourism services.
He said the exemption not only helps tourists save on expenses but also lures more international tourists to Vietnam in the coming time.
Vietnam expects to welcome 4.2 million visitors this year.