Since early November 2010, Vietnam and Mozambique have collaborated to exchange experiences of various reform and development projects.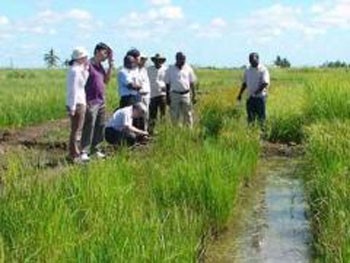 Vietnamese among experts in a rice growing project in Mozambique (Photo: Cong An Nhan Dan)
For 500 years Mozambique was colonized by the Portuguese and soon after gaining independence in 1975, this African country established diplomatic relations with Vietnam on June 25, 1975.
Mozambique's population is about 20 million with a total area of 799,380 square kilometers. Part of this area forms the 2,470 kilometer coastline along the Indian Ocean.
Every year Mozambique has to import food which includes an estimated 300,000 tons of rice, as only about 27 percent of the 43,000 hectares of agricultural land is arable.
One notices that on the 200 kilometer stretch from the capital Maputo to Xai Xai District in the north, there is just barren land and dry brushes. Women are seen carrying water pots on their heads with their child strapped on their backs besides carrying other load as well.
The country's GDP per capita is only at US$464. Like Vietnam, Mozambique has given up the centrally planned economy in order to build their market economy.
As a result, the country is very interested in making innovative changes similar to Vietnam. Mozambique is therefore encouraging a comprehensive cooperation and investment from Vietnam.
During a recent visit to the Mekong Delta, a Mozambican minister looked at fish ponds there and joked that "Only one fish pond here accounted for half of Mozambique's fish output."
Officials at the Mozambican Ministry of Planning and Development and the governor of the country's central bank said they had read a lot of data on Vietnam's economic reform and growth. Some had visited Vietnam to study various projects and exchange viewpoints and experiences.
The Vietnamese ambassador in Maputo, Dang Giang said that the Vietnam – Mozambique cooperation project financed by the Food and Agriculture Organization is well underway.
As a result, Professor and doctor Vo Tong Xuan from An Giang University has taken a Vietnamese family from the Mekong Delta to Mozambique to cultivate rice crops there.
They have already harvested the first bumper crop in the African country. Rice cultivation experiences in the Mekong Delta are being applied in Mozambique with the hope that Mozambicans can produce enough rice for domestic need and later even for export.
Unlike Vietnam, Mozambican rural areas are covered with ruined homes due to the war and have as yet not been rebuilt. The existing infrastructure of roads, schools, irrigation, health, electricity and water supply are in disarray.
The past Portuguese dominance has left the country with rubber and cashew plantations that now need nurturing and further development. The Vietnam Rubber Group has been invited to Mozambique to invest in this field.
The Vietnamese military telecom group Viettel has also been invited to bid for developing a cell phone network there.
In the education sector, Vietnam has granted scholarships to 19 Mozambican students to study in Vietnam. Mozambique in turn has also offered to introduce the teaching of the Portuguese language in Vietnam.