Vietnamese President Tran Dai Quang yesterday had a discussion with President of Madagascar Republic Hery Rajaonarimampianina as he was participating in the 16th Francophone Summit.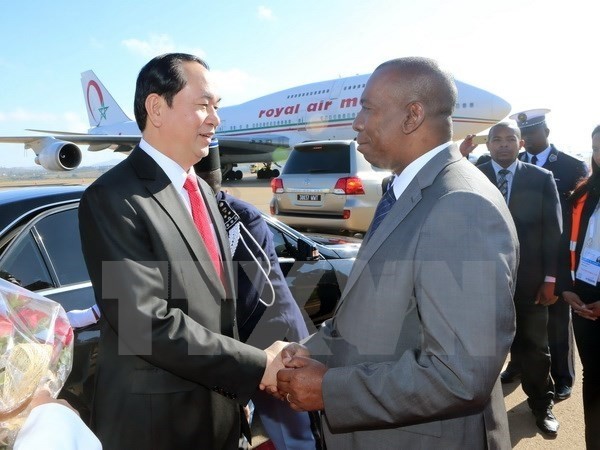 Vietnamese president Tran Dai Quang (L) arrives in Madagascar for 16th Francophone Summit (Source: VNA)
Ready for cooperation
The two leaders expressed their pleasure about the Vietnam- Madagascar good traditional friendship and cooperation ties.
This visit brings an important meaning for the first official visit of the Vietnamese president in Madagascar.
" People of Madagascar admired the Vietnamese Party Communist and people in struggling for national independence as well as building and developing the country nowadays", stressed the Madagascar presidents.
In parallel, Vietnam will ready for multi- potential cooperation with the partner such as agriculture, trade and investment.
President Tran Dai Quang also suggested that the two sides will co-sign the Double Taxation Avoidance Agreement and Agreement on encouragement and reciprocal protection of investments soon.
Boosting cooperation efficiency
President Tran Dai Quang desired the two countries continue adding summits, furthering economic, trade and investment cooperation to deepen the good traditional friendship ties between the two localities in the next coming time; and suggested the country will create the best favorable conditions for business investment of the Vietnam Military Telecommunications Group- Viettel.
The maintenance of peace, stability, security, safety and freedom of maritime and trade in the area plays an important role, so the two leaders unanimously resolve conflicts via international law, the United Nations Charter and especially the 1982 United Nations Convention on the Law of the Sea and the Declaration on the Conduct of Parties in the East Sea.
The upcoming opening of Vietnam Honored Consulate General in Madagascar will become a bridge for reciprocal cooperation and benefit.
The two leaders discussed important issues such as improving efficiency of Francophone cooperation, regional and international issues.
Two leaders witnessed a signing ceremony of memorandum of understanding about Vietnam- Madagascar trade cooperation.

On the same day, the Vietnamese president laid a wreath at the Ho Chi Minh Square in Antananarivo capital, visited Vietnamese pavilions at Francophone village and met Vietnamese Madagascar community.
Tomorrow, the president will have an important speech at the opening ceremony of the 16th Francophone Summit.