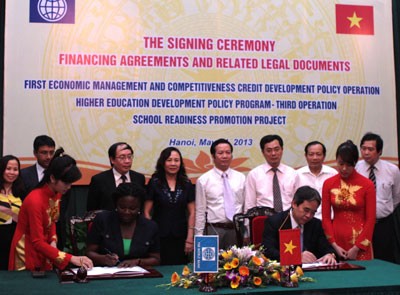 At the signing ceremony (Photo: Courtesy of WB)
The State Bank of Vietnam and the World Bank on May 14 signed three credit agreements of $400 million for higher productivity and competitiveness, the implementation of the Higher Education Reform Agenda.
The first Economic Management and Competitiveness Credit for Vietnam, the first of a series of three operations, provides $ 250 million concessional financing to support reforms in seven policy areas, namely financial sector; fiscal policy; public administration and accountability; state enterprise management; public investment management; efficiency of the business environment; and equity and transparency of the business environment.
The second credit worth $50 million for the Higher Education Development Policy Operation 3  supports the implementation of the Governments higher education reform program with policies designed to strengthen governance, financing and quality of higher education..
The third project worth $100 million, the  School Readiness Promotion Project (SRPP) aims to raise school readiness for children entering primary education.