The Ho Chi Minh City Youth Union yesterday evening held a meeting and exchange culture between the city students and nearly 300 students from Laos, Cambodia who are living in Ho Chi Minh City, on the occasion of the traditional Tet- Bunpimay and Chol Chnam Thmay.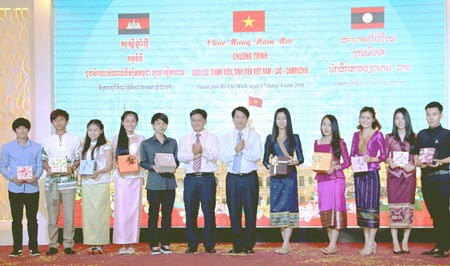 The city leaders offer gifts to students from Laos and Cambodia.
The event took place in friendly and warm atmosphere through special art music performances. Specially, young people from Laos and Cambodia celebrated the rituals for tying someone's wrists together and water splashing in the New Year to pray love, peace, longevity, good health, success and happiness.
At the meeting, the city leader offered gifts and banqueted Vietnamese traditional cuisine to young people and students from two neighboring countries.
On behalf of the city leader, Deputy Head of the HCMC Party Committee's Public Relations Le Trong Hieu wished health, good luck and success to all students on their traditional Tet. He also desired the young generation will continue to study well and contribute further for developing and building their countries adding that the students of Laos, Cambodia and Vietnam will strengthen further friendly relations, solidarity and cooperative relations in the upcoming years.
Earlier, nearly 300 young people and students from Laos and Cambodia took part in exchange activities with the city students such as seminar on environment protection and dealing with climate change, picnic and others.