The Permanent Mission of Vietnam to the United Nations, the World Trade Organisation and other international organisations hosted a special exchange in Geneva on February 14 with the missions of Laos and Cambodia.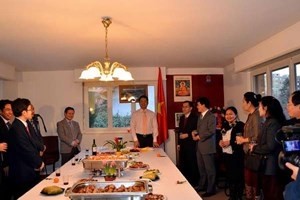 (Photo:VNA)
The aim of the event was to strengthen Vietnam 's ties with the two neighbours. I n his speech, the head of the Vietnamese mission, Ambassador Nguyen Trung Thanh, expressed his warm sentiments to the Lao and Cambodian friends who joined his staff to celebrate the recent Lunar New Year (Tet) in the city.
Lao Ambassador Thongphane Savanphet voiced his hope that the traditional relations and comprehensive cooperation between Vietnam and Laos in general, and between the two permanent missions in Geneva , will be further strengthened.
Meanwhile, his Cambodian counterpart Ney Samol was grateful to participate in Vietnam's traditional festivity for the first time, saying he had been made to feel at home.
The two diplomats shared the view that the event offered a great opportunity for Vietnam, Laos and Cambodia to nurture and further develop friendship and solidarity between the three countries.