Vietnam is willing to share its experience of national construction and development with the Republic of Central Africa, said President Nguyen Minh Triet on May 19.
He stated this during talks with his Central African counterpart, Francois Bozize Yangouvonda, who is on an official visit to Vietnam until May 22.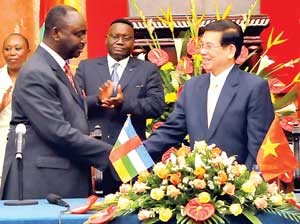 Vietnamese President Nguyen Minh Triet (R) meets with Central African President Francois Bozize Yangouvonda in Hanoi May 19 (Photo: SGGP)
The State leader welcomed President Yangouvonda's official visit to Vietnam, describing it as a new step in promoting friendship and cooperation between Vietnam and Central Africa after the two countries established diplomatic ties on November 10, 2008.
"While pursuing its foreign policy of diversification and multi-lateralization of international relations, Vietnam has always attached a lot of importance to strengthening and developing its ties with Central Africa in particular and friends in Asia, Africa and America in general," he noted.
The President emphasized that the relevant Vietnamese and Central African ministries and agencies need to increase the frequency of their meetings to become aware of each other's potential and the possibility of cooperating in areas where both countries are strong in.
For his part, President Yangouvonda spoke highly of the great achievements the Vietnamese people have made during their national construction and development process.
The Central African President said that as both were developing countries and active members of the Francophone Community, Central Africa is keen to enhance its relationship with Vietnam, considering the nation an important partner in Asia, particularly in trade, agriculture, health, education, economics, national defence, forestry and mining.
Based on the experience Vietnam has accumulated in developing tripartite cooperation with other African countries, Central Africa and Vietnam could successfully build a model for tripartite cooperation with the support of the International Francophone Organisation, he added.
The two leaders informed each other of the situation in their respective countries and discussed a range of measures and areas that they could expand friendship and cooperation. They also touched upon regional and international issues of mutual concern.
Following their talks, Presidents Triet and Yangouvonda witnessed the signing of the Vietnam-Central Africa Cooperation Framework Agreement saying that it would serve as a legal foundation to step up bilateral cooperative relations in all fields for the benefits of both peoples.
Meeting with the press after the talks with President Yangouvonda, President Triet said that the Central African President's visit to Vietnam is extremely significant as it turns a new chapter in the two countries' relations to bring it to a new height.
He said Vietnam and Central Africa see new prospects for broader bilateral cooperation in economy, education, health care, and poverty reduction.
In the immediate future, the two countries would focus on tapping their own strength and join hands to boost bilateral and tri-partite cooperation, and coordination at international forums.
The Central African President said he felt honored to visit Vietnam for the first time and affirmed that his talks with President Triet ended with good results, promising to bring in a bright future for the two countries' cooperation.
He also said he expected to learn from Vietnam's valuable experience in agriculture, education and training.
"The task is now to translate our determination into action," the Central African President stressed.