An interview with Sai Gon Giai Phong Newspaper celebrated the 40th anniversary of establishment and friendly relations between Vietnam and Japan.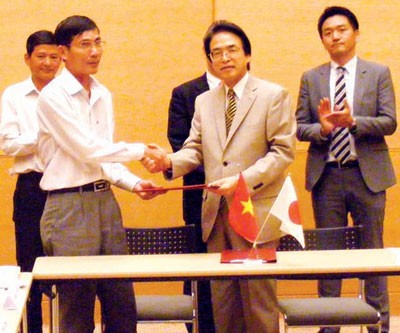 Japanese Consult General in Ho Chi Minh City Hida Harumitsu(R) and Vietnam leaders in the meeting(Photo:SGGP)
The friendship between the two countries has been much appreciated, said Japanese Consult General in Ho Chi Minh City Hida Harumitsu. The general, in collaboration with Japanese and Vietnamese businesses, regularly held cultural exchange activities to celebrate progress in culture and good economic relations in 2013.
Hida Harumitsu hopes these relations will harbor developments for the New Year.
The cooperation between the countries have led such projects as ODA loans, nuclear power plants, Long Thanh International Airport, hydropower stations, ecological urban development, Japanese-Vietnamese Cho Ray Hospital, and environmental projects to alleviate climate change.
The idioms and proverbs of Vietnam and Japan are similar, said Hida Harumitsu.  He studied two years of Vietnamese language in university before working in the Ministry of Foreign Affairs of Japan. He believes Vietnamese is a difficult language and regularly practices pronunciation.
There is an intimate atmosphere when both children and adults participate in New Year activities, said Hida Harumitsu.  Japanese culture calls for similar New Year activities as Vietnamese culture.  Hida Harumitsu appreciates the intimacy in Vietnamese tradition because it brings children and adults to celebrate together.
Vietnam- Japan Friendship Year was opened by visit of Japanese Prime Minister Shizo Abe to Vietnam for two days (from January 16 -17 of 2013).
In the visit, Shinzo Abe had a meeting with Vietnamese Prime Minister Nguyen Tan Dung.
Both two sides affirmed that within the framework of celebration of Vietnam- Japan Friendship Year, all activities as well as cultural exchange programs were held to contribute to heighten relation between two countries.
A new ODA loan, worth US$ 500 million in infrastructure for 2020 to 2030, was implemented.