Vietnam on Saturday inaugurated the Can Tho Bridge, Southeast Asia's longest cable-stayed bridge, after five and a half years of construction and expects it to boost socio-economic development, trade and tourism in the Mekong Delta region.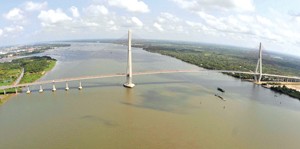 A panoramic view of Can Tho Bridge (Photo: SGGP)
The project has a total investment capital of US$342.6 million sourced from Japan's official development assistance and the Vietnamese State budget.
Crossing the Hau River, the bridge is 2.75 kilometers long in total and 23 meters wide, with a main span of 550 meters. It has four lanes for automobiles and two lanes for motorcycles, linking Vinh Long and Can Tho provinces, about three km from downstream the Can Tho Ferry.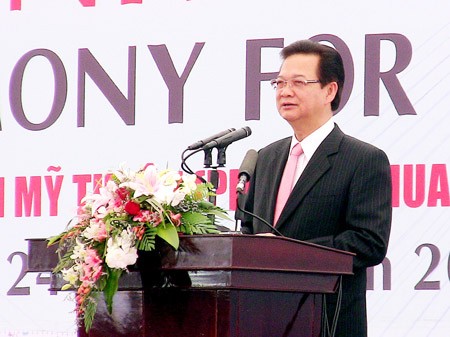 Prime Minister Nguyen Tan Dung delivers a speech at the bridge opening ceremony (Photo: SGGP)
The bridge has a vertical clearance of 39 meters for ships of up to 10,000 tons to navigate under it.
It was built by domestic and foreign contractors, including Taisei, Kajima and Nippon Steel of Japan.
Vietnamese Prime Minister Nguyen Tan Dung, Deputy Prime Minister Truong Vinh Trong, Transport Minister Ho Nghia Dung and other leaders, Japanese Ambassador to Vietnam Mitsuo Sakaba, and representatives of the contractors attended the inauguration ceremony together with local officials and residents.
PM Dung expressed thanks from Vietnam to the government and people of Japan for assisting Vietnam build this important bridge.
Masayyuki Karasawa, director of the Japan Bank of International Cooperation (JBIC), said the Can Tho Bridge is comparable to one of the five largest bridges in Japan and one of the 10 longest bridges in the world.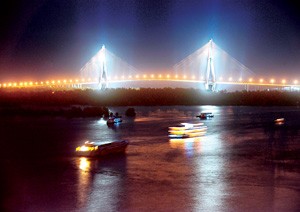 Can Tho Bridge by night (Photo: SGGP)
The bridge helps facilitate traffic flow between Ho Chi Minh City and Mekong provinces, replaces the Can Tho Ferry and eases traffic congestion on National Highway 1A.
The Ministry of Transport is to make a decision on the ferry service.
Over the past years, 13 ferries have been used every day to carry people and vehicles between the two banks of the Hau River.
The bridge project was originally set for completion by the end of 2008 but the collapse of two spans in September 2007 led to a suspension of construction. Construction resumed in March 2008.
In October 2009, the last segment was put in place, marking the completion of the bridge. This March the contractors handed over the finished bridge to the project owner, which is the My Thuan Project Management Unit.