Vietnam always places importance on its ties with Australia and desires to boost their comprehensive partnership in a result-orientated manner, said Prime Minister Nguyen Tan Dung at a reception for Australian Foreign Minister Julie Bishop in Hanoi on February 18.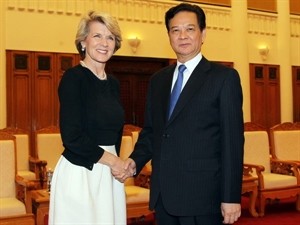 Prime Minister Nguyen Tan Dung receives Australian Foreign Minister Julie Bishop on February 18 (Photo: VNA)
The Government leader suggested both sides conduct more visits to bolster cooperation, particularly in such fields as economics, trade, investment and tourism.
He also expressed his hope that Australia will continue to provide assistance for Vietnam in infrastructure building and education–training, as well as create optimal conditions for the Vietnamese community in the country.
PM Dung asked for more collaboration in defence–security and to soon complete the Trans-Pacific Partnership Agreement negotiations.
He suggested that Australia continues to support ASEAN in the implementation of the Declaration of Conduct of Parties in the East Sea (DOC) and in forming a Code of Conduct in the East Sea (COC), along with ensuring maritime security and safety in the waters.
For her part, Julie Bishop said Australia considers its relations with Vietnam as being of great importance, which is demonstrated by her visit to the country that immediately followed her appointment to the post of Foreign Minister.
She said that the two sides discussed concrete measures to step up bilateral ties, especially in trade and investment, which stood at seven billion USD in 2013, energy and mineral exploitation.
The guest added that her Government will increase scholarships for Vietnamese students and create best conditions for their studies in Australia.
Confirming its support to the maintenance of maritime security and safety in the East Sea, Julie Bishop said Australia hopes to promote the affiliation with Vietnam in security–defence, especially transnational crime prevention.
The same day, Deputy Prime Minister and Foreign Minister Pham Binh Minh and Australian Foreign Minister Julie Bishop held talks.
They agreed to increase the exchange of high-ranking delegations and conclude the action programme for 2014-2016 early in order to promote and expand cooperation in politics, security, defence, trade, investment, development assistance, education-training, tourism and labour.
Both sides also discussed international and regional issues of common concern and affirmed they will support each other at regional and international forums such as the East Asian Summit (EAS), the ASEAN Regional Forum (ARF), the Trans-Pacific Partnership Agreement and within the framework of the United Nations.
They agreed on the importance of maintaining peace, stability and cooperation in the East Sea , ensuring maritime freedom, safety, security, implementing the Declaration DOC, and forming the COC.
Minister Julie Bishop spoke of Vietnam's achievements in its socio-economic development, expansion of external relations and international integration. She affirmed that the Australian government continues to consider Vietnam one of its key partners in the Asia-Pacific region.
Deputy PM Minh affirmed Vietnam's consistent policy of placing importance on developing the comprehensive partnership with Australia, while asking the two foreign ministries to maintain annual dialogue mechanisms in consular affairs and human rights dialogue.
He thanked Australia for backing Vietnam's bid to join the UN Human Rights Council for the 2014-2016 term, and asked Australia to support the country's efforts to become a non-permanent member of the UN Security Council for the 2020-2021 term.
At the talks, the two sides expressed their pleasure at the rapid development in the ties between the two countries as well as the foreign ministries in recent years, especially since the establishment of the Comprehensive Partnership in 2009.
Australia is Vietnam's eighth biggest trade partner and receives the largest number of Vietnamese students of 25,000.
Before Hanoi, Julie Bishop stopped in Ho Chi Minh City on February 17 to meet with the Australian business community and visited the Vietnam-Australia Transnational Crime Prevention Centre.
She is scheduled to have working sessions with leaders of the Ministries of Industry and Trade, Planning and Investment, and Public Security on February 19.
She is expected to attend the launch of Australian-funded projects on improving safe vegetable quality and ending domestic violence in northwestern Vietnam.