Vietnam has gained impressive achievements in implementing the Millennium Development Goal (MDG) on poverty reduction, said a UN representative.
At a press briefing on Vietnam's MDGs implementation in Hanoi on September 20, UN Resident Coordinator in Vietnam, John Hendra, said that among all MDGs, Vietnam has made the most impressive progress in the MDG on poverty reduction (MDG1), reducing the poverty rate from 58.1 percent in 1990 to 14.5 percent in 2008.
The number of hungry households dropped by two thirds from 24.9 percent in 1993 to 6.9 percent in 2008, he said.
The country has also made remarkable progress in primary education with the rate of children entering primary schools reaching 97 percent, he said, adding that 88.5 percent of pupils have completed their five-year primary education, of whom over 90 percent continue higher education.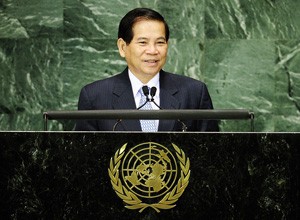 Vietnam's President Nguyen Minh Triet addresses the Millennium Development Goals Summit at the United Nations headquarters in New York on September 20, 2010. AFP
The rate of women joining economic activities is estimated to reach 83 percent in 2010.
At present, Vietnam is one of the region's leading countries in women's participation in the parliament with 25.8 percent of NA deputies being women.
The UN official spoke highly of the Vietnamese government's commitments and efforts through the integration of MDGs into the country's socio-economic development plans, building development policies for the poor and creating more jobs for labourers.
However, he also stressed that to maintain those achievements, Vietnam should define and address disparities arising from the development process and anticipate possible risks.
According to John Hendra, while the country has reached or is on the way to fulfill almost all MDGs, the goal on HIV (MDG6) is likely to be out of reach by 2015 if access to services is not improved remarkably, especially for groups at high risks.
The Vietnamese government's budget commitment for HIV prevention at national and local levels needs to be strengthened and focus on preventive measures, ensuring the sustainability of prevention activities, he said.
Regarding education and training, the UN representative said that Vietnam should ensure poor people's access to educational services and encourage families to invest more in the education of their children, especially girls.