Vietnam's National Assembly (NA) wants to expand dialogues with the Australian House of Representatives in all areas to share information, build trust and promote mutual understanding.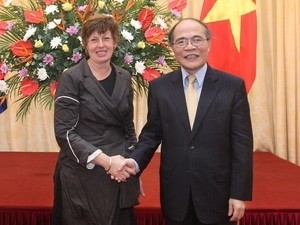 NA Chairman Nguyen Sinh Hung meets Speaker of the Australian House of Representatives Anna Burke. Photo: VNA
NA Chairman Nguyen Sinh Hung made the statement at his talks with Speaker of the Australian House of Representatives Anna Burke in Hanoi on May 22 right after greeting her at an official welcome ceremony.
Hung described Burke's visit to Vietnam as a spotlight at a time when the two countries are celebrating the 40 th anniversary of their bilateral diplomatic ties.
He also praised exchanges of activities between the two countries' parliamentarians, especially the Friendship Parliamentarians Groups and leaders of the two legislatures.
Both host and guest agreed to make it easier for the two nations' enterprises to boost trading activities, encourage Australian firms to invest more in Vietnam, especially in fields of their strength in line with Vietnam's development strategy, and facilitate the effective implementation of Vietnam- invested projects in Australia.
They also reached a consensus on further speeding up cooperation projects in education, labour, national security and defence for peace and development in the region and the world.
Speaker Burke stressed the special importance of the two legislative organs' cooperation, saying it has contributed to improving the cooperation efficiency between the two Governments.
On the occasion, she also invited Hung to visit Australia on the occasion of the 40th anniversary of the diplomatic ties. Hung accepted it with pleasure.
Following the talks, Hung and Burke signed a cooperation agreement between the two legislative bodies.
Under the agreement, the two sides will promote the exchange of high-level visits and delegations of all levels, as well as work closely at multilateral forums.
They will also exchange publications on legal systems and related issues to learn experience from each other.
The signing of the agreement was described by both leaders as contributing to further cementing the bilateral ties and lifting it to a new height for the benefit of the two peoples.
Later on the day, Chairman Hung feted the visiting Australian Speaker and her entourage.