The sixth Regional Meeting of Smoke-free Cities in the Asia Pacific Region "Reshaping Tourism through Smoke-free Environment" has discussed how to promote smoke-free tourist environment, enhancing cooperation network and sharing experiences in carrying out the campaign.
Standing Deputy Health Minister Professor Nguyen Viet Tien said that Vietnamese Ministry of Health and the Vietnam Fund for the Prevention of Tobacco Harms have built smoke-free tourist city in Hoi An city since 2009, and expanded to some other cities like Ha Long, Hue, Hai Phong, and Nha Trang.
He added that in these cities, people at restaurants, hotels, tourist sites, offices, schools and hospitals are not allowed to smoke. Building a smoke-free tourism environment helps not only to create green and beautiful tourism images in foreign visitors' eyes but also protect people's health.
According to Professor Tien, smoke harm prevention task is the top priority of the health sector in Vietnam and other countries in the world as the burden of disease from smoke is very great.
Countries are adopting anti-tobacco platforms by posting graphic picture warnings on cigarette packs, increasing the tax for tobacco products, banning on advertisement, sale promotion of tobacco.
In tourist cities, smoke-free promotion activities have been carried out through cultural, sports and tourism events such as Asian Beach Games in the central City of Da Nang, the Do Temple Festival in the northern province of Bac Ninh, the Vietnam – Japan cultural exchange in Hoi An and the cherry-blossom festival in the northern province of Ha Long aimed to raise people's awareness of smoke harm, said Dr. Tien.
Moreover, hundreds of thousands of no-smoking signs and posters have been placed at tourist sites, offices, hospitals, and schools to remind local people and visitors of the regulation of not to smoke in public places. This regulation is also shown on bulletin boards or entrance tickets at tourist sites.
Deputy Chairman of Hoi An City Nguyen Van Son said that under the direction of city People's Committee, anti-smoke task becomes annual action plan. Moreover, no-smoking at workplace is one of regulations in state companies.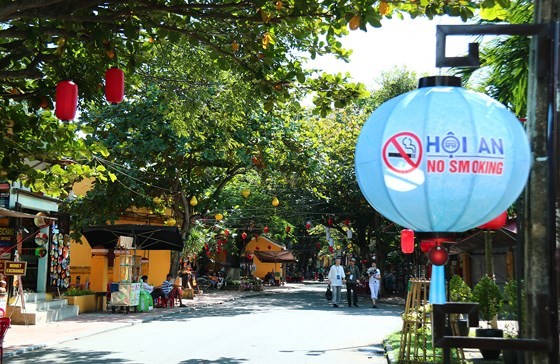 Hoi An has achieved success in carrying out the ban of smoke in tourist sites helping build the image of an ancient city in visitors' eyes.
Deputy Director of the Vietnam Fund for the Prevention of Tobacco Harms Phan Thi Hai said that as per a study of adult smokers showed that efforts in fighting smoking in public places have initially proved effective.
Specifically, the smoking rate has dropped from 47.4 percent to 45.3 percent among men and from 1.4 percent to 1.1 percent among women.
Plus, the smoking rate among men in cities fell from 54.2 percent to 38, 7 percent and there has been a drastic fall of exposure to second-hand compared to 2010 in all localities.
The rate of secondhand smokers reduced drastically from 84.9 percent to 80.7 percent at restaurants, from 55.9 percent to 42.6 percent at workplaces, from 54.3 percent to 37.9 percent at universities and colleges, and from 34.4 percent to 19.4 percent on public transport vehicles.
In the next time, the Vietnam Fund for the Prevention of Tobacco Harms will continue supporting cities in building smoke-free environment and implementing ban of smoke in public places.
The event was held by the Ministry of Health's Vietnam Fund for the Prevention of Tobacco Harms, the Southeast Asia Tobacco Control Alliance and the World Health Organization (WHO) Western Pacific Regional Office yesterday in Hoi An City of the central province of Quang Nam with the participation of 100 representatives from Thailand, Laos, Cambodia, China, Indonesia, Myanmar, Malaysia, the Philippines, and Mongolia...