Prime Minister Nguyen Tan Dung has proposed Denmark provide official development assistance (ODA) for Vietnam to build vocational schools and assist the nation in green development.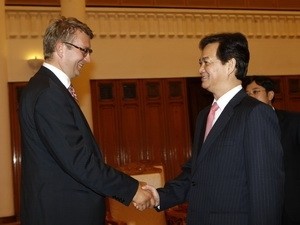 PM Dung (R) receives Danish Education Minister Troels Lund Poulsen (Photo: Vietnamplus)
The PM made the proposal at a reception given to visiting Danish Education Minister Troels Lund Poulsen in Hanoi on June 30.
Vietnam always considers education a top priority and a driving force for its fast and sustainable development, said Dung.
He said he hoped Denmark would reduce tuitions for Vietnamese students studying in Denmark , provide Vietnamese students with scholarships in the areas of environment and green development and train Vietnamese university teachers.
The PM expressed the belief that the Danish Education Minister's visit will create a new development step in both countries' education sector.
He expressed his delight at the fine development of the two countries' relations in economics, trade, investment, education and training, with two-way trade reaching more than 300 million USD. Denmark is now the seventh largest European investor in Vietnam .
For his part, Minister Poulsen praised Vietnam's for its economic development and efforts for education and training, saying that Denmark will assist Vietnam in vocational training and green development.
The minister told the host that both sides agreed to set up a coordination committee to discuss specific cooperation plans, including providing scholarships to Vietnamese students to study in Denmark, building a number of vocational training establishments in Hanoi and Ho Chi Minh City.
During a working session that took place in Hanoi the same day, Vietnamese Education Minister Pham Vu Luan and Poulsen discussed the memorandum of understanding on education and training cooperation signed between the two ministries in December 2010 and other documents on the two countries' education cooperation.
They agreed that more attention should be paid by both to bring into play the effectiveness of the MoU.
To implement the MoU, Luan proposed the establishment of a joint working group which comprises representatives of both ministries' relevant agencies and convenes every year.
Luan called for Danish assistance to Vietnam in energy, environment and climate change education through devising and implementing projects in the country.
He also proposed the Danish ministry supply materials and send experts to Vietnam to help in building education output standards and raising teachers' knowledge.
Poulsen agreed with his Vietnamese counterpart in the establishment of the joint working group. He said Denmark is willing to send experts to assist Vietnam in doctoral training, improving teachers' capability and vocational training as well as in implementing existing education cooperation projects.
Over the past years, Denmark has sponsored a project on environment education in Vietnam 's schools, a project on cooperation in environment science between Can Tho University and Aarhus University and a primary fine arts education assistance project.
On this occasion, the Vietnamese Ministry of Education and Training presented the insignia "For the Cause of Education" to senior expert Joern Skovsgaard of the Danish Education Ministry's International Secretariat and International Cooperation Director Arne Carlsen of Teachers Training University of Aarhus University.