Vietnamese Prime Minister Nguyen Xuan Phuc yesterday received Duke of Cambridge, UK Prince William, who has had the first visit to Vietnam.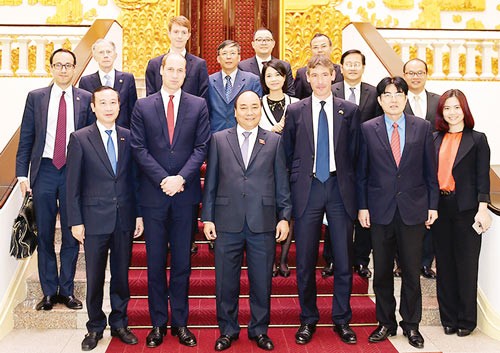 Vietnamese Prime Minister Nguyen Xuan Phuc receives Duke of Cambridge, Prince William (photo: SGGP)
PM Nguyen Xuan Phuc stressed that the bilateral relations is very good in all fields. Considering economy an important pillar of the ties, the PM asserted the Vietnamese government will create favorable conditions for investors of the two countries.
In addition, the PM lauded the positive development in cooperation of education field between the two countries, proposing that the two sides will further the sector by strengthening cooperation in universities, research centers and vocational training centers. The UK will support Vietnam by training teachers and lecturing English as well as create favorable condition for Vietnamese students in the UK. 
The Duke of Cambridge said that he had looked forward to the first visit to Vietnam for years, thanking for the warm welcome of the Vietnamese PM. He said that the good bilateral relations play an important role to the UK, expecting to promote the relations to further level. 
The Duke said that he hoped Vietnam will lead the wildlife protection campaign, adding that Vietnam showed its efforts in stamping out illegal sales of wildlife.
The PM asserted that the Vietnamese government is determined in fighting against illegal sales of wildlife. Four days ago, Vietnamese officials destroyed publicly two tons of ivory and 70 kilograms of rhino horn which are items of smuggling.
His two day visit is centered around his attendance of the conference on the Illegal Wildlife Trade. 
During the visit in Vietnam, the Duke engaged with a wide cross section of Vietnamese society in order to encourage local people to stamp out the use of things like rhino horn. Demand for Illegal Wildlife Trade products in the region has led to an unprecedented increase in the poaching of endangered species in Africa in recent years.