Illegal trade of chickens and cattle has been worrisome for relevant authorities in Vietnam, as they are potent carriers of plague and other infections.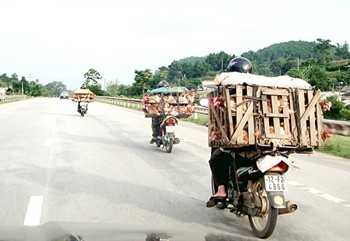 Chickens being smuggled into Vietnam (Photo: SGGP)
The Ministry of Agriculture and Rural Development reported that by mid July, almost 6,500 heads of cattle had been illegally brought into the country from Cambodia.
170 tons of pork was smuggled in from China through the border province of Lang Son and four tons of unhygienic chicken came in via Quang Ninh Province in the last four months.
The Department of Animal Health caught about 25 tons of pork being smuggled into the country in one day alone, via Lang Son Province.
Hoang Van Nam, head of the department is concerned that such massive smuggling of animals across the northern borders can only cause spread of contagious diseases. Officials have already tested 28 samples of chickens which tested positive of A/H5N1 virus. This may be one of the reasons for prolonged infection of diseases in Vietnam, he said.
Health animal organizations say that most border provinces are unable to control this massive scale of smuggling into the country.
Nonetheless, the Ministry of Agriculture and Rural Development has issued orders in a dispatch instructing chairpersons of people's committees in some northern border provinces to crack down firmly on this illegal activity. The provinces where trade is flourishing illegally are Lang Son, Quang Ninh, Cao Bang, Ha Giang, Lao Cai and Lai Chau.
The Ministry of Industry and Trade has also taken firm action by confiscating 60 cases of over 80 tons of chicken, which was subsequently destroyed.