Peace lovers in the world, including the Vietnamese people, will always keep in mind the great contributions by former Soviet Union's Red soldiers and allied armies and the sacrifice of millions of people for the victory over fascism.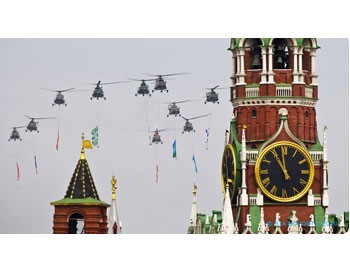 Russian Air Force pilots roared over the Russian capital rehearsing maneuvers and practicing flying in formation ahead of the Victory Day parade on May 4.
Le Hoang Quan, Chairman of the Ho Chi Minh City People's Committee, made the remark at a ceremonyon May 6 to mark the 65th anniversary of victory over fascism (May 9).
He said as a nation which had experienced fierce wars, the Vietnamese people, particularly Ho Chi Minh City people,
understand the value of peace and together with people all over the world would strive for peace, prosperity, happiness and development of the mankind.
He said that victory contributed not only to liberation of Europe, but also opened up revolutionary movements in the world, including Vietnam 's August Revolution and the foundation the Democratic Republic of Vietnam.
At the ceremony, which was held by the Russian Consulate General in Ho Chi Minh City , Russian Consul General Nikolay Dmitrievich Ubushiev expressed his gratitude over devotion of Vietnamese soldiers, who took part in defending Moscow during the Soviet people's struggle against fascism.
On the occasion of the 35 th anniversary of Vietnam national reunification, the Russian diplomat stressed that the victory over fascism and the Liberation of Southern Vietnam (April 30) are common victories of the two nations and of all nations loving peace, independence and freedom