State President Tran Dai Quang yesterday attended in the Vietnam-Italy Business Forum and met leaders of the Italian National Assembly and Italian Prime Minister Matteo Renzi.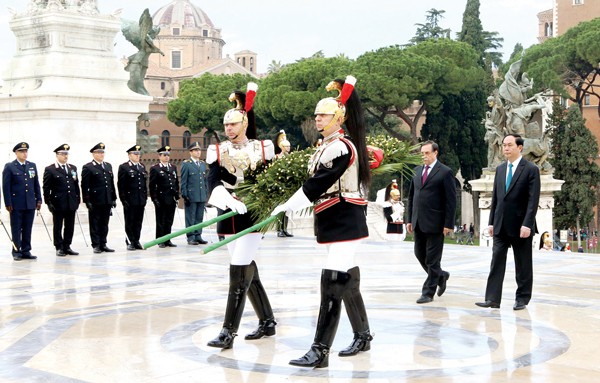 Vietnamese president laid a wreath to commemorate unknown heroic martyrs at the Italy National Monument
The two leaders highlighted the great efforts of the two sides' ministries and agencies in adopting cooperative agreements and projects, and deepening the comprehensive sustainable relations between the two countries.
In the Vietnam- Italia Business Forum, the Vietnamese president said that Vietnam has made outstanding achievements over the past 30 years for the country's comprehensive innovation, the country has become a developing country with a middle income, sustainable economy, controled inflation and rapid economic growth.
President Tran Dai Quang has highly appreciated the good result in trade, culture, education & training and science & technology since the two countries co- signed a Joint statement of strategic partnership in January, 2013.
Italy is one of the most important European trade partners of Vietnam with total bilateral trade increasing from US$ 3.4 billion in 2013 to US$ 4.3 billion in 2015. In parallel, Vietnam is also Italy's major trade partner among countries of ASEAN.
The Vietnamese State and people have always paid a respect to the traditional friendly relations as well as active assistant of Italian people in the struggle for Vietnam's freedom and national independence, and building and developing the country as nowadays context, the president added.
The Vietnamese leader encouraged Italian investors in the fields of mechanics, textile & garment, wood and food processing and cooperation with the small- medium enterprises hoping that more and more Italian firms will invest in traffic development and information and technology infrastructure.
In the context of the upcoming efficiency of Vietnam- EU Free Trade Agreement, Vietnam and Italy could rise the two- way exporting and importing scale by US$ 6 billion in the period of 2017- 2018.
Earlier, the Vietnamese president met Chairmen of Italy's Lower House of Parliament Laura Boldrini and Italy's Upper House Pietro Grasso.
At the reception, the leaders unanimously continue cooperating in economy, culture, education & training, science & technology, security and defense.