Vietnamese Defence Minister, General Phung Quang Thanh has called on ASEAN to strengthen solidarity and cooperation for common prosperity, focusing on cooperation with China and the US, the two biggest economic powers in the world, which also exert influence on regional security.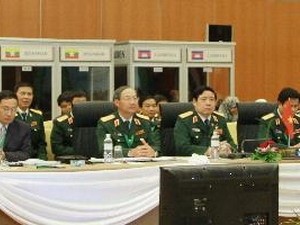 General Phung Quang Thanh at the 7th ASEAN Defence Ministers' Meeting (Photo: VNA)
He addressed the 7th ASEAN Defence Ministers' Meeting (ADMM) in Brunei's capital city of Bandar Seri Begawan, on May 7.
General Thanh said ASEAN should work to issue a cooperation mechanism with China, like the high-level ASEAN+1 mechanism.
He noted that in the meantime, peace, friendship, cooperation and development remain a prevailing trend.
Regarding the East Sea issue, Thanh also reaffirmed Vietnams' stance on resolving disputes by peaceful means in line with international law, including the 1982 United Nations Convention on the Law of the Sea.
Relevant parties should fully implement the Declaration on the Conduct of Parties in the East Sea (DOC), the ASEAN's Six-Point Principle in the East Sea , the ASEAN – China Joint Declaration on the occasion of the 10 th anniversary of the DOC signing in Cambodia , and promptly formulate the Code of Conduct in the East Sea between ASEAN and China, he said.
As for non-traditional security challenges, Thanh said the Vietnamese maritime police recently arrested 11 foreign pirates, as well as successfully rescued nine Malaysian fishermen. Vietnam and Laos also worked together effectively in the fight against drugs.
He proposed regional cooperation measures like increasing naval links, establishing a naval hotline, holding joint patrols at sea, and organising exchanges among ASEAN forces stationed in islands of Truong Sa (Spratly) archipelago with the first one between Vietnam and the Philippines.
The Vietnamese minister also proposed signing an agreement on not using forces before and during marine sovereignty disputes, especially among ASEAN countries that have deployed forces in Truong Sa archipelago.
Once realised, these moves will serve as a precondition for high-level agreements to be implemented, thus promoting peace and stability and lessening tensions and confrontation in the region, Minister Thanh stressed.
The minister also appreciated Thailand 's role as a coordinator in ASEAN – China relations, including the building of COC.
He described the first ADMM+ Humanitarian Assistance and Disaster Relief and Military Medicine Exercise, slated for June in Brunei, as a large-scale event, marking an important development and symbolising ASEAN's linkages with partner countries in the region, affirming that Vietnam will send its forces to field drills.
Regarding humanitarian assistance activities and Vietnam's initiative on establishing an ADMM+ experts' working group on humanitarian mine action, Thanh said ASEAN needs to enhance experience sharing and assist resources to overcome the aftermath of post-war bombs and mines, for interests and future of each country's people, especially those in Vietnam, Laos and Cambodia who experienced tragic years of war.
On the fringe of the event, Thanh also held a bilateral meeting with his Chinese counterpart.
The ASEAN Defence Ministers adopted four concept papers, namely establishing ASEAN defence interaction programmes, the establishment of logistics support framework and ADMM+ experts' working group on humanitarian mine action, the transition of the ADMM+ experts' working group co-chairmanship.
They issued a Joint Declaration themed "Securing Our People, Our Future Together", reiterating their commitment to fully and effectively implement the DOC.
This year's event took the theme "Securing Our People, Our Future Together".