Vietnam has sent urgent appeals to international communities, asking for US$ 48.5 million to deal with the impact of increasingly severe drought and saltwater intrusion caused by the El Nino phenomenon.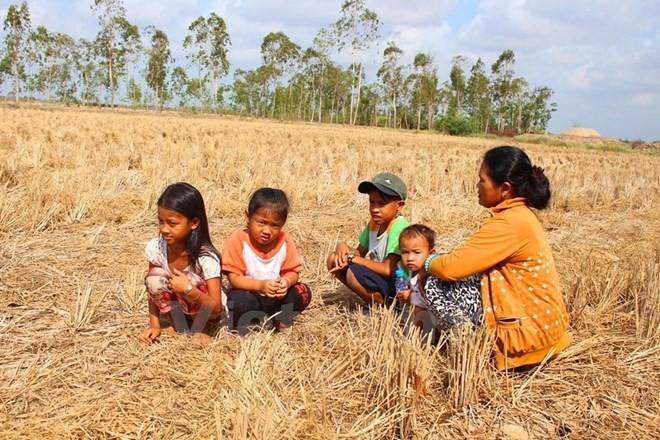 A woman and her children sit on a dried field in the Mekong Delta. (Photo: VNA)
The request was made at a conference jointly organised by the UN and the Ministry of Agriculture and Rural Development in Hanoi on April 26.
At the meeting, Vietnam announced a national urgent response plan covering water and food supply, sanitation and health care.
In March, the Government, the UN and some non-governmental organisations released quick calculations that two million Vietnamese would be without access to clean water and 1.1 million in need of food aid across 18 of the hardest-hit provinces. Their findings also showed that more than 60,000 women and children were malnourished and 1.75 people saw their sources of livelihood severely damaged.
Water shortages have forced locals to resort to unhygienic water, raising a high risk of disease outbreaks. Food safety is also under threat over serious crop failure.
Since the end of 2015, Vietnam has provided more than 5,200 tonnes of food-aid for three regions that took the full brunt of drought and saltwater intrusion. The country has spent over VND1 trillion ($45 million) on drought assistance.
On March 15, the Government called for humanitarian aid from international partners.
Pratibha Mehta, UN Resident Coordinator in Vietnam, said Vietnam has been active in delivering urgent assistance; however, the situation requires special international help.
Authorities cannot meet local demand due to a lack of resources, she stressed.
Mehta noted that the UN will continue supporting Vietnam to implement its relief plan.
By late afternoon, approximately $7.34 million in aid was pledged, with $4 million from the UN and 3 million from the Asian Development Bank. The US supported Ben Tre with $50,000, while the Red Cross granted EUR 200,000 to Ca Mau and up to $18,000 to Long An.
The World Bank, Asian Development Bank, Japanese Government, French Development Agency (AFD), and German Development Bank (KFW) said they are willing to help Vietnam cope with the current crisis and implement long-term projects in response to climate change.