Ties with African countries have in recent years become an important component of Vietnam's foreign policy, Deputy Prime Minister Pham Gia Khiem said when opening the Vietnam-Africa International Seminar in Hanoi on August 17.
Khiem, who is also Foreign Minister, noted that Vietnam is eager to share information and experience with African countries.
Vietnam wants to work together African countries in defining advantages and challenges as well as specific measures to boost their multi-dimensional cooperation, especially in the areas of their strength, such as agriculture, energy, infrastructure and others, the host said.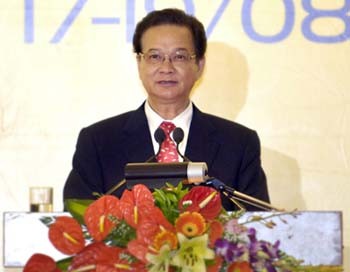 Prime Minister Nguyen Tan Dung states at the opening ceremony of the Vietnam - Africa International Seminar in Hanoi August 17
Addressing the event themed, "Vietnam-Africa: Cooperation for sustainable development", Prime Minister Nguyen Tan Dung reckoned that since its inception in 2003, the seminar has become a dialogue mechanism, an important and practical forum, and an effective bridge allowing Vietnam and African countries to cooperate closely in many fields.
He expressed his satisfaction at the visible development of wide-ranging cooperation between Vietnam and Africa, describing the deployment of many agreements as creating a firm foundation for Vietnam and Africa to advance their ties further in the future.
The PM urged participants to focus on discussing ways and means to further the Vietnam-Africa friendship and traditional cooperation in all fields, and increase Vietnam's presence in Africa and vice versa.
He asked participants to look for measures to expand economic ties, trade and investment, promote information dissemination and sharing of information and experience in national construction and development, poverty reduction and the implementation of Millennium Development Goals.
They should screen and strengthen bilateral and multilateral cooperation mechanisms and encourage businesses, organization and economic sectors to become involved in these mechanisms to make them dynamic and effective, the PM said.
The seminar saw the participation of 53 international delegations representing African countries, international organizations and countries which have carried out multilateral cooperation projects with Vietnam and Africa alongside officials from relevant ministries and sectors of Vietnam.
UN Vice-General Secretary and Special Adviser on Africa Cheick Sidi Diarra praised the growing cooperation between Vietnam and Africa and underscored the significance of this seminar to worldwide endeavors to fulfill the Millennium Development Goals.
Since the seminar was first held in 2003, Vietnam and Africa have witnessed a strengthening of their political and diplomatic ties. Trade surged from 360 million USD in 2003 to 2.07 billion USD in 2009 and agricultural, energy, labor, healthcare and expertise cooperation developed markedly.
Vietnam has signed 70 cooperative documents with Africa to provide a legal framework favorable for growing relations between two sides.
Following the opening ceremony, the participants attended two theme sessions on food security, agricultural cooperation and poverty reduction, and on cooperation in trade, energy and investment.