The first Vietjet Air relief aid flight carrying five tons of canned food, blankets and other essential commodities landed in Manila in the Philippines on November 18.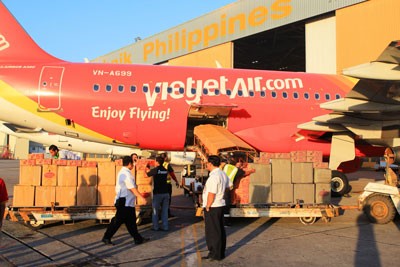 First Vietjet Air relief aid flight lands in Manila on November 18 (Photo: Courtesy of Vietjet Air)
All the aid material has been transferred to the Non-Government Organization DSWD and the Couples for Christ Global Mission Foundation, for distribution to victims of Super Typhoon 'Haiyan'.
The next flight carrying relief aid will reach the Philippines early morning of November 21.
Donations were generously made by Vietjet Air employees, Vietnamese corporations and individuals alike. Vietjet Air coordinated with the Consulate General of the Philippines in Vietnam to dispatch the aid.
Currently the airline is asking for permission to carry people on the next relief flight. If this is permitted, Vietjet Air will offer free airlift to Vietnamese nationals, previously evacuated from the Philippines, who wish to return to the country.
Vietjet Air is still open to receiving donations including cash, canned foods, blankets and essential commodities (excluding clothing items) for the second aid flight, until 12.00am of November 20.
 
Related article:
VietJet Air to dispatch relief aid to Philippines