Pham Huy Hung, Chairman of VietinBank has pledged a donation of VND52 billion (US$2.6 million) on Nov 15 for the second phase of the Sai Gon Giai Phong Newspaper charity program 'Sentimental attachment for Truong Son Road'.
The Managing Board of the SGGP charity program met with leaders of the Vietnam Bank for Industry and Trade (VietinBank) and reviewed the successful first phase of the charity program in Hanoi on November 15.
The donation money from VietinBank will be used for building five medical clinics, 600 houses for the poor, one sanctuary and a shrine.
VietinBank is one of the leading banks in Vietnam. During the past years, VietinBank has participated in several social activities to help the poor and disadvantaged in the country.
Since 2007, VietinBank has donated a total of VND1,800 billion ($90 million) for building houses in rural areas and projects to uplift war invalids and martyrs in Vietnam. This year, VietinBank donated a total of VND750 billion ($375 million) for social activities and programs to uplift the poor.
On the same day, SGGP representatives also met VietcomBank leaders in Hanoi.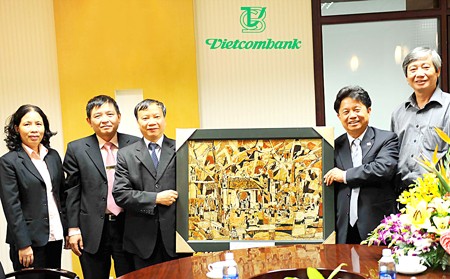 Tran The Tuyen, SGGP Editor-in-Chief (2nd from R) offers a souvenir gift to Vietcombank leaders (Photo:SGGP)
On behalf of SGGP editorial board, Tran The Tuyen, SGGP Editor-in-Chief thanked VietcomBank for its contributions towards the first phase of the charity program.
Donations from VietcomBank were used effectively to build hundreds of houses for poor war veteran families, study scholarships for children and building of free medical clinics in remote areas to fulfill the great need of poor and disadvantaged families.
Nguyen Hoa Binh, Chairman of VietcomBank expressed his   appreciation of the program and pledged to continue supporting the program during its second phase.
During the first phase of the program, many projects were implemented to help alleviate the sufferings of war invalids. However, Tuyen said that he was still not satisfied and content with what the program had accomplished and wished to do much more. He said that many needs of the poor had still not been met.
Tuyen said that the program has become a meaningful program for residents in 14 cities and provinces along the Truong Son Road. However, to expand further, the program needs support from central leaders and city authorities.
The SGGP program 'Sentimental attachment for Truong Son Road' helps war heroes, war invalids, martyrs' families, youth volunteers and the poor ethnic minority groups living along the Truong Son Road. During the resistance war against US invaders, the people living along this route (Ho Chi Minh Trail) suffered heavy human losses.
The program has been highly appreciated for its profound social and political meaning as it helps ethnic groups in remote areas to build a better life.