South Korean property developer Keangnam has begun building what will be the tallest tower in Viet Nam in the new Ha Noi suburb of Cau Giay.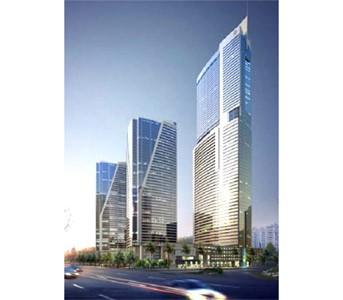 An artist's impression of Keangnam Ha Noi Landmark Tower.
The three buildings that will make up Keangnam Ha Noi Landmark Tower, to give the US$1.05-billion project at E6 Pham Hung Street its full name, will house offices, apartments, a hotel, a convention center and shops taking up 580,000 square meters of space.
The tallest building will have 70 stories, measure 336 meters from top to bottom, and be in the top twenty of the world's tallest towers when it is completed in 2010. The other two will be 47-storey structures.
Addressing the assembled guests at Saturday's ground-breaking ceremony, Mr. Sung Woan Jong, chairman of the Keangnam group, said Ha Noi was short of luxury office space and apartments.
The increasing number of foreign investors in the capital, he said, required the local authorities to concentrate on improving infrastructure and the construction standard of hotels, office and apartment buildings as well as shopping and other commercial centers.
He said the Keangnam Ha Noi Landmark Tower would meet these demands.