2013 was a landmark year for Viet Nam in terms of external relations, with deeper ties forged with countries worldwide creating an environment of peace and stability in which every Vietnamese citizen has benefitted, Deputy Prime Minister Pham Binh Minh has stated.
In a recent interview with the media, Deputy PM Minh, who also acts as Foreign Minister, said Viet Nam established strategic partnerships with five countries and comprehensive cooperative partnerships with two others last year, showing the depths of its success in this area.
Looking back over the past 13 years, its respective number of strategic and comprehensive cooperative partners has reached 13 and 11, including five permanent United Nations Security Council (UNSC) members.
According to the minister, this will lift bilateral political ties to greater heights, which will push their security-defence, economic-trade-investment connections forward.
Deputy PM Minh cited a six-fold rise in trade with Russia since the two nations set up a strategic partnership in 2001 as an example. Trade in goods with China has also jumped four times over the past six years, and doubled with UK for three years.
Trade between five permanent UNSC countries and Viet Nam now accounts for 45 percent of the total, while between them these nations inject 20 percent of Vietnam 's total Foreign Direct Investment. They have also proved promising destinations for Vietnamese students, taking in 60 percent of the total 100,000 Vietnamese students learning abroad, he said.
In terms of tourism, these five countries have recorded 45 percent of total foreign arrivals to Viet Nam. Such an impressive rate means that the domestic hospitality industry is at an advantage, directly and indirectly.
Turning his attention to Viet Nam's cooperation with neighbours and regional countries in the defence of its sovereignty in the East Sea , Minh made it clear that the independence and sovereignty was maintained during last year, with the completion of border demarcation and relevant agreements with China .
He said more border markers with Laos were built and upgraded while work on the borderline with Cambodia is expected to conclude soon.
In summary, he said Viet Nam has not only sustained its friendship with countries but also ensured national security.
In the East Sea , the country has come up with ways to defend its sovereignty, evidenced by the fact that the Vietnamese fishermen are still living and working in the country's exclusive economic zones as usual.
Viet Nam is also serious about violations to safeguard its sovereignty in the East Sea which remains a source of dispute between the country and others, he said.
Deputy PM Minh underscored Viet Nam 's stance to settle the East Sea dispute by negotiations and peaceful means without using or threatening to use force, in accordance with international law and the 1982 United Nations Convention on the Law of the Sea (UNCLOS).
This policy has received acclaim from the international community, including ASEAN members, he said, adding that Viet Nam is dealing with disputes through dialogue and other peaceful means while actively and proactively fully abiding by the Declaration on the Conduct of Parties in the East Sea (DOC) and working for the early formulation of a Code of Conduct in the East Sea (COC).
Deputy PM Minh also highlighted the amended Constitution, which was adopted by the National Assembly last November. He drew attention to the dossier's second chapter, which contains 36 regulations regarding human rights and civil rights and duties.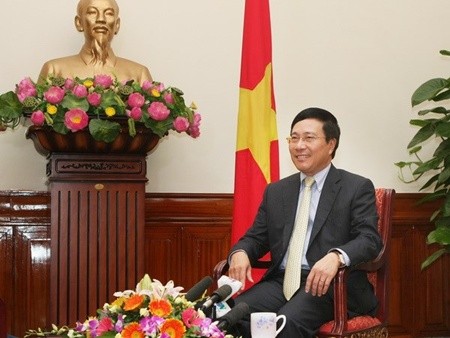 Deputy Prime Minister and Minister of Foreign Affairs Pham Binh Minh. — Photo Phuong Hoa
This is a clear manifestation of the nation's consistent policy and the whole society's consensus for protecting and promoting human rights, which have been increasingly ensured in all fields from politics, economics to culture and society, Minh said.
Viet Nam has been hailed for its achievements in economics, social welfare, poverty reduction, universal education, gender equality and human development index.
Viet Nam has fulfilled six out of eight the Millennium Development Goals (MDGs), helping the country earn the highest number of votes from the United Nations Human Rights Council members.
The outcome demonstrates international community's acknowledgement and appreciation of Viet Nam 's contributions to the field.
The Deputy PM recommended that nations set targets on how to protect and promote human rights in each country.
He suggested that countries provide information on what their governments have done and must do in the future in terms of human rights, as well as increasing dialogue and information exchange among all nations.