The three-day India-Viet Nam Friendship Festival 2007 opened on Monday in the Indian state of West Bengal.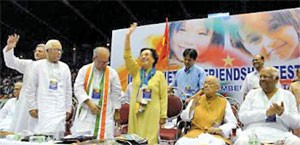 Former Vice President of Viet Nam Nguyen Thi Binh (C, yellow) attends the opening ceremony of Viet Nam-India Friendship Festival 2007 in the Indian state of West Bengal on Sept 2

Addressing the opening ceremony, Indian Foreign Minister Pranab Mukherjee praised Viet Nam as a symbol of bravery, unyielding spirit and strong determination to resist foreign occupation and fight poverty.

He stressed that Viet Nam played a key role in accelerating the dialogue between India and the Association of South East Asian Nations (ASEAN).

West Bengal Chief Minister Budhhadeb Bhattacharjee noted that Viet Nam held a strategic position in Southeast Asia - a region with which India wished to develop deeper ties.

Also present was former Vice President of Viet Nam Nguyen Thi Binh, now President of the Viet Nam Peace Foundation, who welcomed the Viet Nam-India strategic partnership agreement signed by Prime Minister Nguyen Tan Dung on a recent visit to India.

She stressed that the two nations' friendship should be continuously strengthened to cope with the emerging challenges from globalization.