The prime ministers of Viet Nam and the United Arab Emirates held talks in Ha Noi on Tuesday to explore ways of expanding bilateral ties.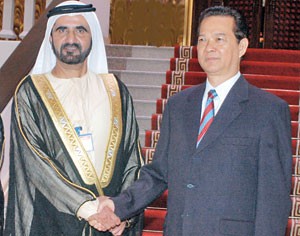 Prime Minister Nguyen Tan Dung (R) shakes hands with his UAE counterpart in Ha Noi on Sep 4
Vietnamese PM Nguyen Tan Dung told his guest that there was much potential for cooperation between the two nations.
He said he was satisfied with the way the bilateral relationship was growing and called for UAE companies to invest in areas where their country was strong like oil and gas exploration and processing, real estate, hotels and tourism generally.
Viet Nam-UAE bilateral trade has made remarkable progress in recent years, rising from US$67 million in 2002 to US$250 million in 2006.
However, Vietnamese goods make up just a small proportion of the UAE's imports, and Viet Nam has not made full use of the UAE as a "warehouse" (80% of the UAE's imports are re-exported).
PM Dung asked that the UAE continue creating favorable conditions for Vietnamese exporters, and suggested an early signing of agreements on investment protection, labor cooperation and double taxation avoidance.
UAE Prime Minister Mohammed Bin Rashid Al Maktoum, who is also his country's vice president, said many UAE companies had decided to invest here.
Viet Nam possesses many advantages like political stability, a fast-growing economy and a young population, so the UAE attaches great importance to seeking opportunities for cooperation with Viet Nam, he said.
The UAE is willing to open its market to Vietnamese products and can play the role of a go-between to export Vietnamese goods to other regions, he said.
The UAE has a great demand for laborers, particularly in construction and processing, and would be happy to accept Vietnamese guest workers, the UAE leader said.
PM Dung relayed to his counterpart the decision to upgrade the Vietnamese consulate in Dubai to an embassy, and his guest replied that the UAE was planning to open an embassy in Viet Nam in the near future.
The two leaders then witnessed the signing of several agreements, including a memorandum of understanding on standards and quality, and pacts between the Viet Nam Chamber of Commerce and Industry and the Dubai Chamber of Commerce and Industry, the UAE Commission for Securities and Commodities and the Viet Nam State Securities Commission, and between the Vietnamese Ministry of Industry and Trade and the UAE Ministry of Finance and Industry.
Later in the day, the visiting UAE leader met with President Nguyen Minh Triet. Both men underscored the need for increased interaction between state officials, businesspeople and social organizations of their two nations.
At a Viet Nam-UAE business forum in Ha Noi the same day, the Viet Nam Chamber of Commerce and Industry (VCCI) and its counterpart in Dubai signed an agreement to boost cooperation.
According to VCCI chairman Vu Tien Loc, Dubai will act as an important gateway for Vietnamese goods as it is one of the world's largest trading centers.
Viet Nam has opened a consulate, representative offices and a trade center in Dubai to foster Vietnamese businesses' operation in UAE. However, Loc said, economic and trade relations between the two countries are still languishing well short of their potential, citing the lack of any UAE-invested project in Viet Nam to date.
Chairman of Dubai Chamber of Commerce and Industry Obai Humaid Al Tayer said UAE investors saw investment opportunities in infrastructure and tourism in Viet Nam.
Although still unfamiliar with Viet Nam, they quickly analyzed the process of equitization by Vietnamese state-owned enterprises. "We want to own shares in equitized state firms. Particularly, we want to seek investment opportunities in electricity production," he said.
UAE Minister of Economy Sheikha Lubna Al Qasimi told the forum that UAE investors were very strong at finance, and that the country's private investment capital comprised 43% of the total net capital.
Many UAE investors said Viet Nam was disadvantaged by a lack of foreign language ability and a shortage of skilled personnel. The UAE representative proposed cooperation in education and technology transfer with Viet Nam.