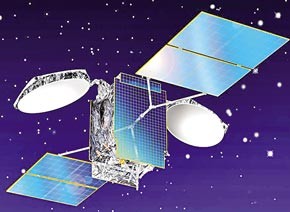 A graphic image of VINASAT-1 in orbit
Viet Nam will launch its first satellite on April 12 to meet surging rise in demand for telecommunications, as part of efforts to reduce its reliance on the leasing of foreign satellites.
VINASAT-I will be launched into orbit in French Guiana by European firm ArianeSpace and will be ready for use in May, Nguyen Ba Thuoc, Deputy General Director of state-run Viet Nam Posts and Telecommunication Group (VNPT) said at a press conference in Ha Noi on Wednesday.
The $200-million satellite, built by Lockheed Martin, will have a life span of 15 to 20 years, he said.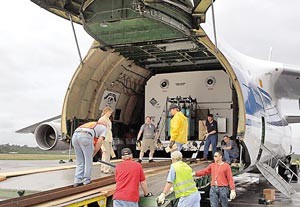 VINASAT-1 unloaded at Kourou Spaceport in French Guiana, South America
US$300 million is needed for the satellite launch project, including for building the satellite, buying insurance and constructing a station.

"Viet Nam will be more active to improve network capability and quality of telecommunication, IT and communication services and to reduce the gap between cities and rural areas," Mr. Thuoc said.

Telesat Canada is the consultant for the launch of the satellite. Capable of handling more than 10,000 telephone, internet and data transmission channels or about 120 television channels, VINASAT-1 will provide radio, television and telephone transmissions for the nation, as well as Laos, India, Australia and other countries in the Asia Pacific region.
The satellite is also expected to benefit Vietnamese people in remote and isolated areas, giving them access to modern telecommunications services despite their geographical location.
VINASAT-1 will be positioned at 132 degrees East Longitude in a geostationary orbit.

Explaining why the country's first satellite was called VINASAT-1, VNPT said it had an ambition to launch more satellite into orbit.