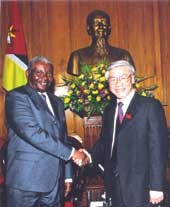 NA Chairman Nguyen Phu Trong (R) welcomes Mozambique President Armando Emilio Guebuza (Photo: VNA)
After opening the Viet Nam – Mozambique Business Forum, Mozambique President Armando Emilio Guebuza and his officials yesterday paid a visit to the Tan Tao Industrial Zone, Aquatic Product Trading Company (APT) and the Southern Agricultural Machinery Company Vikyno in Ho Chi Minh City.
Mozambique has not taken advantage of its coastal line of more than 2,700 kilometers to boost its fishery industry. Thus, the Mozambique President paid a lot of attention to the APT's operation during his visit to this company.
Speaking at the forum, Mozambique President Guebuz hoped Viet Nam will help his country expanding production and exporting agricultural goods which are two of the main reasons of his visit.
The President was also impressed by the Vikyno's operation and development. So, he promised to pave the way for the Vikyno in particular and Vietnamese businesses in general to open offices and build factories at his country's capital Maputo.
In addition, the Mozambiquean Education Minister paid attention to cooperation in training human resources between the two countries.
As the two sides' unsteady economic cooperation and lack of information about the respective countries' market, the Mozambiquean delegation saw the visit as a precious opportunity to carry out the coordination on agriculture, public health, education and science and technology between the two countries.
Viet Nam also considered Mozambique a potential market to expand into.
The delegation today visited the Cu Chi Tunnels and crocodile farms of a local firm.
Mozambique President Armando Emillo Guebuza yesterday attended the Viet Nam – Mozambique Business Forum held in the Legend Hotel in Ho Chi Minh City.
At the forum, more than 100 local businesses discussed many fields, including visa procedures, import tariffs, goods prices and so on, with eight Mozambiquean businesses.