Prime Minister Nguyen Tan Dung will visit Italy on January 25 to boost the economic, investment and trade relations between the two countries.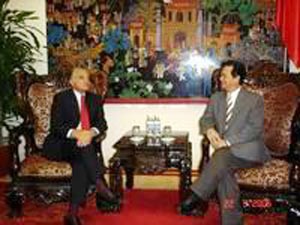 PM Nguyen Tan Dung (R) receives Italian Ambassador to Viet Nam Alfredo Matacotta Cordella on September 22, 2006.
Following the PM's visits to Belgium and the European Commission, and his meeting with the leaders of European countries on the sidelines of the sixth Asia-Europe Meeting Finland last September, this visit is expected to create a breakthrough in the Viet Nam-Italy relationship, said Mr. Nguyen Manh Dung, assistant to the Foreign Minister and Head of the Foreign Ministry's Section for Europe.
As scheduled, the two sides will discuss four agreements on bilateral cooperation in tourism, small and medium-sized enterprises, vocational training, culture and education, together with an agreement on cooperation between Ha Noi and Lazio of Italy. Signing of these documents is set for this April, during the Italy Month in Viet Nam.
Viet Nam and Italy set up their diplomatic ties in March 1973 and have made remarkable progress since early 1990s. After an official visit to Viet Nam by Italian Foreign Minister G. De Michelis in December 1989, the two countries continued exchanging delegations.
Italy was one of the first European countries to resume and develop economic cooperation with Viet Nam. Some Italian syndicates had started their operation in Viet Nam and achieved remarkable results.
Two-way trade over recent years has constantly increased, from US$320 million in 1996 to 700 million euros in 2005 and 870 million euros last year. Viet Nam mainly imports from Italy leather, chemicals, transportation and construction equipment, sanitary wares, medical equipment and household commodities. It exports to Italy footwear, coffee, aquatic produce, textile and garment, fine art and handicraft products.

Italy now ranks ninth among EU countries and 31st among all countries investing in Viet Nam with 22 projects capitalized at US$55.9 million.

In 1997, Viet Nam and Italy signed an agreement on the implementation of a US$60-million Official Development Assistance (ODA) sum granted by Italy. However, only some projects have been approved by the Italian Government so far.

This year, Italy pledged to give 42.15 million euros in ODA to Viet Nam – with 4.05 million euros in non-refundable aid and 38.1 million euros in preferential loans. Currently, 77% of the capital is allocated to social field, while human resource development receives 5%, production development and marketing 12%, and poverty reduction 6%.